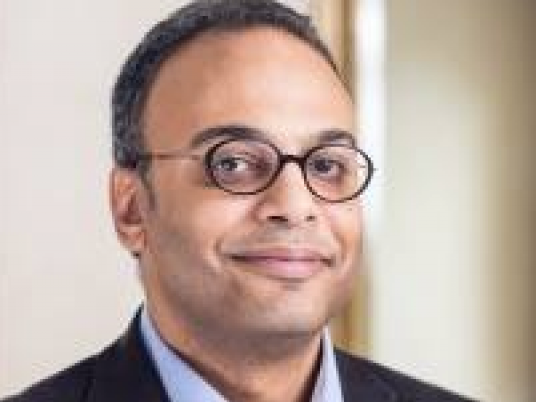 Journalist and human rights activist Hossam Bahgat was banned from traveling on Tuesday based on a decision issued by the country's prosecutor general, according to a post on Bahgat's Facebook page.
"I was traveling to Jordan to attend a United Nations meeting about justice in the Arab world, but I was informed at the Cairo International Airport that my name was added to the travel ban list with no further details. I don't even know the legal's case number," Bahgat said.
Bahgat said he has already traveled twice after being released by military prosecution in November 2015.
Bahgat, a journalist at the independent news website Mada Masr, published an investigation in October on Mada about the scarcely-publicized military trial of 26 army officers convicted last August of planning a coup against President Abdel Fattah al-Sisi.
The investigation was a troublemaker for Bahgat, who was detained last November by military prosecutors over charges of deliberately broadcasting false news that harms national interests and disseminating information that harms the public's interest, according to Penal Code articles 102 and 188. He was released after being detained for two days.
Upon his release, Bahgat published an article on Mada narrating every detail of what went on behind the scenes during his 48-hour detention. "On the morning of Sunday, November 8, I headed to military intelligence headquarters in response to a written summons that was delivered to my house three days earlier," he said.
Bahgat spent three hours at military intelligence then he was escorted through a back door to a car and driven to the military judiciary. They denied his request to contact his family, lawyer or colleagues, who were outside the building, but after several attempts he finally was allowed to make "one phone call" to ask a friend to request a lawyer.
"My interrogation was based on a report by military intelligence against me," said Bahgat. After the interrogation ended, he was transferred to military intelligence again. Another car arrived with three armed men wearing civilian clothing who searched him thoroughly, then took him to their car, blindfolding him and asked him to lower his head on the seat.
Bahgat was taken to an unknown place and questioned by a doctor about whether he suffers from any illnesses or was taking any medication. He was then asked to take off his clothes and the doctor performed a" non-invasive physical inspection", according to Bahgat's article.
"Afterward, I was allowed to get dressed and was escorted into a building. My blindfold was taken off and all my possessions were confiscated, including my glasses, and I was moved to a small, dark cell with nothing but two blankets on the floor," he said.
Bahgat was blindfolded again and spoke to officials who did not revealed their identities. They told him everything would end in the morning and ordered him to be transfer to a "villa".
The next day Bahgat was blindfolded and met with two officers who informed him that the prosecution had ordered a four-day detention pending investigations; "but that military intelligence had decided to release me in the same day," Bahgat said.
At the end of the meeting, Bahgat was asked to write a statement saying that he will adhere to "legal and security procedures" when publishing material about the Armed Forces and that he did not experience any physical or emotional trauma.
UN Secretary General Ban Ki-Moon issued a statement during Bahgat's detention urging his release to safeguard freedom of speech in Egypt.
But the statement drew criticism from the Egyptian Foreign Ministry, who believed it tackled "individual cases" and "jumped to conclusions related to the practice of freedom of expression ensured for Egyptians based on the Constitution".
Prominent journalist Yousri Fouda hailed the release of Bahgat from military prosecution, adding that his case gave a lesson in media professionalism.
In a similar scenario in early February, Gamal Eid, a human rights lawyer and head of the Arabic Network for Human Rights Information (ANHRI), was banned from travel before flying to Athens.
Cairo International Airport authorities informed him that his name had been added to the travel ban list following an order from the public prosecutor, but no reason was given. Eid said he did not receive any notification about the ban nor had he been questioned by the public prosecutor.