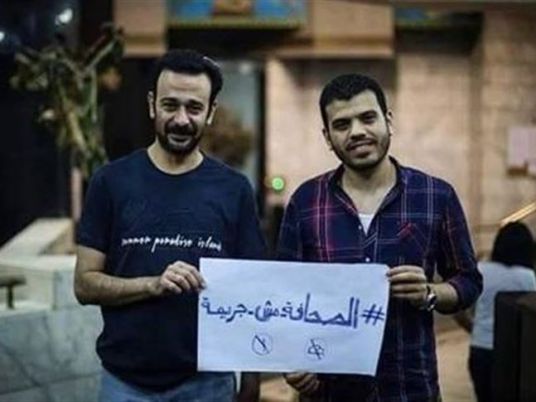 Journalists Amr Badr and Mahmoud al-Sakka have been remanded into custody for the fifth time over charges of publishing false news, inciting protests, and attempting to bring down the administration of President Abdel Fattah al-Sisi.
In its ruling on Wednesday, the Shubra al-Kheima Court sentenced the two men to 15 more days on remand and set a date of August 24 to decide whether they would be released from jail or placed on remand again.
Badr and Sakka have denied the charges brought against them by prosecutors in connection with their alleged support for mass anti-government protests in April.
Their arrest came as a part of a broader police crackdown on journalists since April 25, when anti-government protests had been planned in response to the transfer of two Red Sea islands from Egyptian control to that of Saudi Arabia. Protests had been building since April 8, when an agreement redrawing maritime borders was signed between the Egyptian president and Saudi King Salman bin Abdel Aziz.
In an apparently unprecedented move, a group of armed security officers entered the Journalists Syndicate headquarters in May and arrested Badr, editor-in-chief of yanair.net, and Sakka, a journalist working for the same news website. The two men, who had taken shelter in the syndicate building, were arrested on a warrant from the General Prosecution on suspicion of inciting protests and publishing false news.
Both journalists had taken shelter in the building, and their arrest sparked uproar among syndicate members, who claimed that the police had broken the law in entering the building without proper authorization and prior permission.
Edited translation from Al-Masry Al-Youm