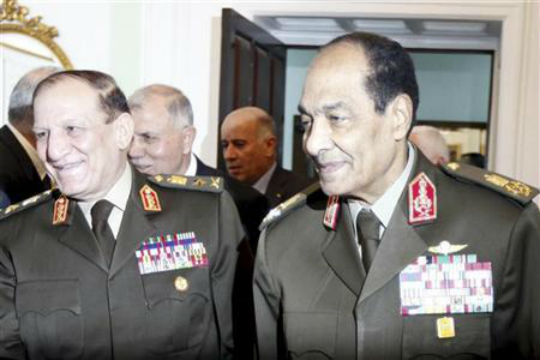 Justice Minister Ahmed Mekky said Thursday that the awards bestowed on former Defense Minister Field Marshal Hussein Tantawi and former military Chief of Staff Lieutenant General Sami Anan do not protect them from trial.
After President Mohamed Morsy retired the two military leaders in a surprise move earlier this month, Tantawi received the Nile medal, the highest Egyptian honor, while Anan was given the order of the republic.
Such honors represent the executive authority while investigations and trials are a judicial issue, Mekky told the Turkish state-run Anadolu news agency.
Political activists demand that Tantawi be punished for the deaths of protesters and other incidents during the transitional period from 11 February 2011 to Morsy's inauguration on 30 June 2012 when he was de facto head of the state. Activists cite the violence outside the Maspero building last October when mostly Coptic protesters were attacked by military forces, killing nearly 30 protesters.
"All I want is for people to know that whoever made a mistake will bear responsibility for it and that no right will be lost," Mekky told Anadolu.
Egyptian media has widely reported that Abdel Moez Ibrahim, former head of the Cairo Appeals Court, has been referred to criminal court for his alleged role in the cancellation of a travel ban on foreign defendants in the NGO funding case.