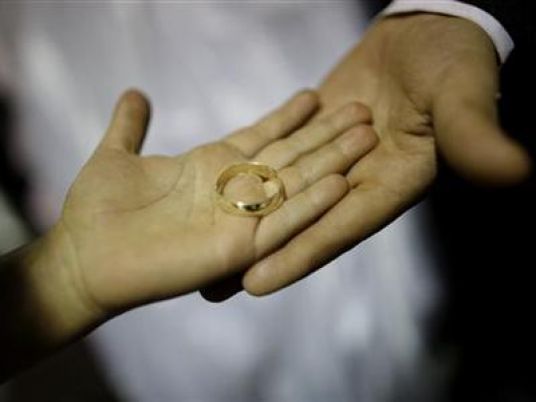 Amendments by the Justice Ministry to notarization rules for marriages between foreign men and Egyptian women have triggered an outcry among women's rights advocates and media commentators.
The amendments increased to LE50,000 the financial requirement from foreign grooms if they are more than 25 years older than their target spouses. The new regulation requires grooms to pay the sum in the form of an investment certificate under the bride's name at the government-owned National Bank of Egypt.
Though the law has already been in place since 1973, the announcement of the amendments sparked an uproar among government critics who saw it as an approval of marriages between rich visitors from the Gulf and financially-desperate minor Egyptian girls.
The Justice Ministry defended its measure, accusing critics of taking the amendments out of context.
Hamdi Moawad, a spokesperson for the ministry, told al-Assema satellite channel late Tuesday that the law has been in place for 30 years.
"The decision aims to immunize Egyptian women and ensure their welfare. We have a phenomenon that we cannot deny but, yet, are trying to curb," he stated, saying that government statements should not be taken out of context.
Nehad Abul-Qumsan, director at the Egyptian Center for Human Rights, said the new amendment stands as "an exception", hoping to return laws that criminalize marriages between couples with a wide age gap.
"The decision by the justice minister is a protection of the wife in case there is an insistence on marriage with a great age difference."
But the regulation drew attacks from other commentators.
"Does the minister encourage marriages for pleasure? Would he be ok if it happens to his daughters?" Sherif Abdel Rahman, a presenter on al-Assema channel said, stressing that the law takes away from Egyptian women's dignity.
"It is shocking, humiliating and has to be revoked immediately," said popular media host Amr Adib on Al-Youm channel.
"We want to prevent the sale of minor girls. There are other measures that can be taken. How is the world going to see us now?" he said, urging the minister to apologize on behalf of Egyptian women.
Sekina Fouad, a former presidential adviser for women's affairs, told Al-Wafd newspaper the amendments, while securing girls financially, fail to secure girls' social rights for the rest of her life. "A senile foreigner who seeks to marry a 25-years-younger bride is only eyeing (sexual) pleasure, and such a marriage ends in failure."
In a statement on Tuesday, the Center for Egyptian Women Legal Assistance also lambasted the decree. "The decision is a form of tariffing of marriages…which will not resolve the trade of women," the organization said. It recommended instead to enact laws that impose restrictions on foreigners marriage to Egyptian females that better protect them from consequences.
Edited translation from Al-Masry Al-Youm