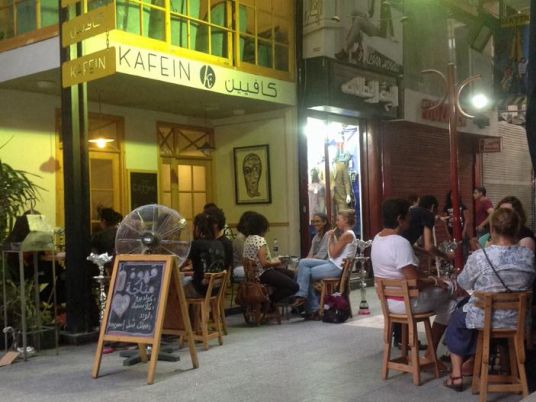 Since March, aromas of apple-flavored shisha and freshly brewed coffee have been pulling in passionate patrons into a cozy cafe called Kafein, nestled on Sherif Basha Street.
What started as a mere opportunity to bring in high-quality, affordable coffee has now become not only a staple of the Downtown cafe scene, but a cultural sensation.
Even on the surface, Kafein stands out from other cafes. Upon entering, customers can see the variety of equipment, appliances and teas in their fully operational kitchen. The workers are professional, attentive and most importantly, at Kafein, the barristas know how to make real coffee, not just the powdered mix you will find at countless 'fancy' cafes in Heliopolis and Zamalek. Not only rarely downtown, but also rarely in Cairo, can one find such high quality coffee at such low a price.
"This is the idea," explains Kafein co-owner Nadia Dropkin. "We want to be very serious about the drinks for not-so serious people."
Among the familiar brews of coffee, such as americano, espresso, latte and cappuccino, Kafein also offers iced coffees, both classic, which is an espresso poured over ice, and the much rarer New York cold brew, which is exactly as it sounds: coffee slowly brewed without hot water to avoid bitter flavor. Patrons can also opt for affogato (scoop of ice cream with espresso) or bombón (condensed milk with a double shot of espresso).
Though Egypt is not a coffee producer, Kafein stresses their dedication to making the rest of their products as local as possible. This includes locally-roasted beans, local tea infusions and locally made desserts and pastries. The hibiscus, chamomile and lemongrass used in their tea infusions come from Siwa. "It's so hot there that it dries immediately. When you put it in tea it's fresh," Dropkin adds.
Coffee is not the only thing Kafein has mastered. The cafe also a wide array of sandwiches, quiches, salads, milkshakes and desserts. The salads at Kafein mix fruit, nuts and greens like arugula, unlike many other cafes and restaurants that merely slop dressing onto a piece of tasteless and nutrient-void iceberg lettuce.
Kafein not only strives to perfect its food and drink, but has also succeeded in transforming the cafe into a cultural space. In an effort to support the local art scene, a wide arrange of visual artists rotate their artwork on the walls of Kafein. The cafe is currently hosting artist Shaima Aziz's series entitled "Faces," which are black and colored ink drawings.
"The idea of the art gallery is to offer a space to the community," explains Dropkin. "We want to bring art into every day. You're sitting having your coffee and you have art with you. You don't have to go to a fine gallery to see it."
The idea of Kafein began as Dropkin and business partner Dina Abouelsoud realized the downtown cafe scene was in dire need of a new space. "There was no work space in downtown. It's hard to go to Borsa to work. I love Borsa… [but] it's a very different crowd," Dropkin explains. "Then you go to Zamalek and it's so overpriced and it doesn't mean you have good quality."
Other cafes with more prohibitive costs can reduce the diversity of patrons, but Dropkin wanted her guests to be from all walks of life. "We really made it a point to make it affordable so the space is inclusive. It's not like Cilantro where the cheapest thing on the menu is over LE10," Dropkin says.
With its affordable prices, Dropkin has seemingly fulfilled her vision to offer the downtown community with a unique and crucial space for work, cultural exchange and good service, all combined with a high-quality product. "People are coming here from Mohandiseen for coffee. There's also people that come who don't normally come downtown. To bring people here for good coffee: that makes us happy," Dropkin smiles.