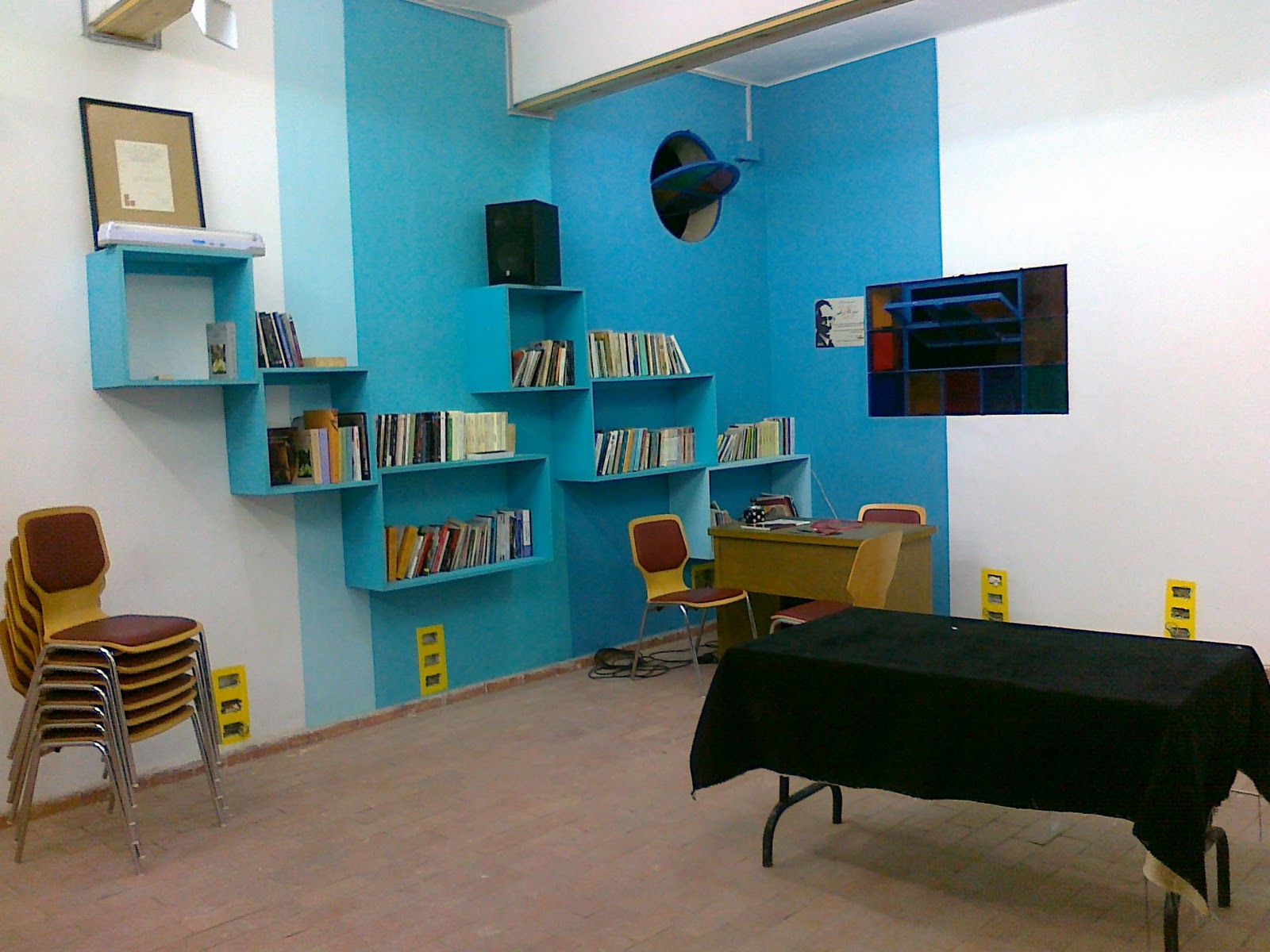 Not so long ago, the space now colorfully occupied by the new Alexandrian cultural center Al-Cabina was a dump so full of trash it was anyone's guess what exactly was buried behind the mountains of waste. Ayman Asfour, organizer of Al-Cabina's practice space for musicians, describes to Al-Masry Al-Youm the process of turning the space into what it is now.
"As they started to pull out the trash, they found stairs they did not know were there, and then they found a whole room filled with trash," says Asfour of the space where a band was now playing music.
The two-story building that houses Al-Cabina, tucked away on a side street in downtown Alexandria, was first built decades ago as a storage space for two building-sized air conditioning units that kept a nearby movie theater chilly throughout the summer.
The gate to the space, painted red and featuring a young woman astride a large black swan, swings open to reveal an inviting chunk of sidewalk where a handful of people are sitting around tables, talking and drinking coffee. The rumblings of band practice waft up from the basement practice room, and inside Al-Cabina's library is painted in cheerful primary colors.
Central to the original concept of Al-Cabina, which is an initiative of the Alexandria-based culture foundation Gudran for Art and Development, was the importance of informal café culture in Egypt. The founders hope to direct the energy of the conversation in Alexandria's street cafés toward the arts. Initially hatched as "Al-Ahwa" (The Café), the plans involved a café that would serve cheap but quality coffee, tea and juice, to be coupled with an event and resource space for the arts. The name was eventually changed to "Al-Cabina" because it was what the movie theater employees used to call the air-conditioner storage space.
Sarah Swidan, executive officer at Al-Cabina, tells Al-Masry Al-Youm, "We wanted to have a very usual café, with cheap coffee and usual chairs, that would have some sort of atmosphere around it that was beneficial and inspirational."
Al-Cabina opened its doors officially in May with a lecture by celebrated Egyptian novelist Sonallah Ibrahim. Focused primarily on supporting music and literature, the space currently consists of a basement practice room which bands can rent out for LE5 an hour, and a small lending library. The practice rooms are open to whoever wishes to book the space, with the fee covering basic maintenance. The library, currently a modest collection of 100 books on general but essential topics such as history, with a particular focus on Alexandrian history, and important works of world literature translated into Arabic, lends books to visitors and does not require membership.
Lending libraries are in very short supply in Egypt, even among small art spaces – many include libraries but most do not loan out their books. And Al-Cabina's library serves a more general audience than other spaces, as it is not limited to art publications.
Since they began the renovation process in the summer of 2010, the organization has held events including talks by artists, writers, novelists, and poets, as welll as musical events, all aimed at highlighting the cultural life of Alexandria. Seeking to forge connections with other cafés in the area, some of those events took place not at Al-Cabina, but at nearby cafés. "There are four or five areas where we have a relationship with the people around, and they welcome us bringing work and events there," says Asfour.
Though it has been officially open for several months now, Al-Cabina is still in its developing stages. The library is currently awaiting a new set of shelves to accommodate a recently-donated collection of books, and there are plans to add multimedia resources and capabilities, with computers, internet, and stations for listening to music and viewing films. And Al-Cabina has yet to actually set up its own café, though coffee and tea can be ordered from one around the corner.
Swidan and Asfour both dwell on the space and the transformation it has undergone when speaking about the project. They want it to feel special, to be inspiring in its physical presence, because as much as they are seeking to provide resources and support to the budding writers and musicians of Alexandria, they are also trying to create an atmosphere that buzzes with creativity and engenders excitement around the arts. The goal is in part to inspire people to take up an instrument or write a poem for the first time – and to actively contribute to a sense that there is a community of artists, writers and musicians in the city, and a place where that community can be found.
Swidan adds that "day after day when young people come to the cafe and find artists, writers and musicians sitting and talking, they might get inspired, they might want to go and read books, go and play the guitar. This is what we hope will happen."