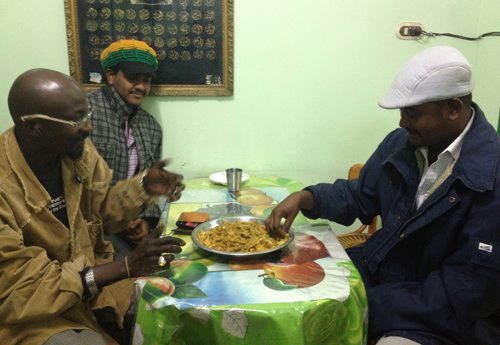 When Saleh al-Bashir, now 76, moved to Cairo in 1985, there was no kesra, or traditional Sudanese bread, to be found.
So after two years, missing the sour taste of this Sudanese staple, he began to bake his own bread, just as his mother had taught him. He did it for himself at first, he explained. But soon demand grew among the other Sudanese in Cairo, whose carb cravings could not be satisfied by Egyptian baladi bread alone.
Bashir laughs when asked why he first wanted to come to Cairo. Other patrons, listening in on the conversation, laugh too. Why, his co-worker Sayad Rashid explains, would anyone want to come to crazy and crowded Cairo?
Bashir is originally from northern Sudan, but he spent most of his childhood in what is now South Sudan. His father was a businessman who died when Bashir was 13.
From a young age, he says, he loved to watch his mother in the kitchen. He recalled how people used to say that he would one day become a cook.
He first left Sudan in his 20s. His first stop was London, where he worked as a laundry man. After several years, he moved to Romania, where he studied husbandry and worked baking bread — not kesra, he laments.
He next went to Iraq, where he worked as a translator for a Romanian company. When the Iran-Iraq war broke out, he left for Kuwait, then spent five years in Libya and then — because of his job — made the final relocation to Cairo.
His first wife, an Iraqi who he met while working there, did not want to move with him to Egypt. She now lives in Sudan with his two daughters, ages 27 and 30. Bashir goes back to Sudan about four times a year, having kept good relations with many people there.
More than three decades later, Bashir, with glasses and a steady stare, is still serving fresh kesra for Cairo's Sudanese community. He is now the owner of Al-Khartoum, one of several Sudanese restaurants around Opera Square in Attaba.
Sayad Rashid, who calls himself the restaurant's second-in-command, says Al-Khartoum is the most popular of the 10 or so restaurants of this type.
"It's the oldest," he maintains. "And it's the best. This is why the people come."
It is hard to confirm Rashid's second claim, though the restaurant's other patrons all eagerly chime in and nod their heads. But in a city often associated with fuul and koshary, Al-Khartoum provides sustenance to a subset of Cairo seeking a more Sudanese flavor.
The restaurant is nestled away at the end of a twisting alley on Gomhurriya Street, across from the Othman Katkhuda Mosque. In its present place, Al-Khartoum is located a few streets off from the other cafes and restaurants frequented by the area's Sudanese residents and tourists.
On a Wednesday afternoon, Bashir's wife, Batoola Mohamed Masoud, who moved here from northern Sudan in 1990, sits busy at the front desk, handling the checks and selling customers special Sudanese items: bottles of sesame oil for fuul, plastic bags of pre-made red dekwa (a Sudanese peanut sauce for salads) and bags of white, dried and crushed Sudanese beans.
Peoples and foods have long flowed between the modern borders of Egypt and north and south Sudan. According to the Consortium for Applied Research on International Migration, an estimated tens of thousands of Sudanese refugees arrived in Egypt during the 1990s and 2000s as a result of the civil war in South Sudan and the genocide in Darfur.
Since the end of the civil war in 2005 and South Sudan's independence in 2011, an unknown number have started to return to the south despite persistent upheaval. According to refugee reports, thousands still remain in Cairo, and more continue to come.
Politics — both Sudanese and Egyptian — is hence the one topic that Bashir refuses to discuss. He purposely avoids it, and claims it has no place in his restaurant.
"I'm part of the 'party of life,'" he says, to the laughter of those around him one Monday night. "The only party I have is football," he adds, citing Sudan's Hilal soccer team, which he played in for two years in his late teens.
It's a tall task to avoid politics in this region, but Bashir insists that he never has political problems with customers from the north or south.
But while politics is off the table at Al-Khartoum, there is plenty of food to take its place. Every meal comes with two kinds of bread on the side: kesra and its Egyptian baladi counterpart. The restaurant's menu provides a mix of foods from all over the Sudanese region.
The differences between northern and southern Sudan, Masoud explains, are largely in the spicing and the frequency with which certain foods are eaten. Many of the dishes, served in metal bowls, are similar to Egyptian or Ethiopian dishes but have their own Sudanese flair.
Al-Khartoum's specialties include orasa, a thick and soft bread served with pureed sauce, based on either meat, eggplant or okra, filling the center; and kawaariya', a cow hoof soup. Okra is a popular ingredient in many dishes, such as na'emia, a mix of okra, ground peanuts and tomato, and ta'lia, minced meat with okra served over orasa.
The several Sudanese salads offered include dekwa, the peanut sauce mixed with tomatoes, onion, and cucumbers, and sawda, eggplant and onions also with peanut sauce.
Masoud says all the meat is imported from Sudan.
"It's better," she insists. "And I get a good price."
Most dishes are traditionally eaten with hands instead of spoons, except for kawaariya'.
In all, the menu lists more than 25 dishes, including kiba, beans, soups and meats in several forms. There are also several more Sudanese specific foods, like asida (a popular porridge), fasikh (a cooked fish with peanut sauce), and chicken roasted in olive oil.
There's also a complementary spicy red sauce, with a sharper flavor than the typical Egyptian shata. Tabaldi, a drink made from the fruit of the baobab tree, is currently not served at the restaurant. But along with karkade, a special kind of which is grown in Sudan, tabaldi can easily be found at the other Sudanese cafes around Attaba Square.
A good meal is not finished without a round of Sudanese coffee, called gabana, which is spiced with ginger and has a rich and biting flavor. At Al-Khartoum, it is poured from an Ethiopian-style finjan into small Turkish coffee cups.
Al-Khartoum opened in this location in 2006 but the menu is largely the same from Bashir's first restaurant, which began 20 years earlier on nearby Abdel Aziz Street, after the kesra-baking venture proved a success.
On any given day, the entrance is filled with customers sitting on plastic chairs sipping tea and coffee. Inside, six tables with green plastic covers comprise the restaurant's one dining area, with an area for hand washing — customary before and after a Sudanese meal — to the right, and a two-room kitchen below, where kesra is still made every morning.
At the far end of the restaurant, an open doorway leads to the Opera Hotel, frequented by many businessmen from Sudan, South Sudan and elsewhere. This hotel, Bashir explains, is a lifeline for the restaurant.
The hotel's Sudanese patrons, often traders in clothing, food and other commercial products, provide a steady source of income. They also bring over products that otherwise cannot be found in Cairo, like candlewood perfume and the Sudanese sesame oil that the restaurant sells.
Other patrons have lived in Cairo for decades, years or months.
People say they come for the food, the company and because the place is known to be clean. The restaurant is mainly filled with men — Sudanese families generally eat at home, Rashid notes — along with the occasional curious group ofEgyptians or foreigners.
Like many migrants to Egypt, Bashir's experiences stretch across decades and continents. He says he is generally quiet among his patrons. He is known in the area and people often greet him on the street, but he cannot remember their names. Yet once he does start sharing, his stories continue to come.
When Bashir first came to Cairo, he became friendly with former Sudanese President Gaafar Nimeiry, who was then in exile here. Bashir recalls how he and Nimeiry became acquainted after Nimeiry tried Bashir's kesra.
"He was happy when he ate my bread," Bashir says.
Now Bashir has diabetes, and his doctor has told him to stop eating kesra.
"I asked him, 'How could I live without it?'" he says, with his characteristic long, throaty laugh.
This piece was originally published in Egypt Independent's weekly print edition.