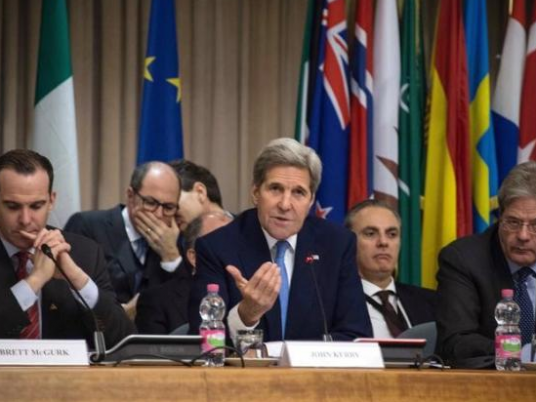 US Secretary of State John Kerry has defended US aid to Egypt, saying the North African nation is of great strategic importance to the United States, especially in light of the various conflicts ongoing in the Middle East.
A report by CNN on Friday quoted Kerry as saying during a congressional budget hearing this week, "We've got a huge interest in making sure that Egypt doesn't go down into a more difficult situation than it is."
He added, "There is a major challenge of extremism, bombs that have been going off in Cairo, bombs that have gone off in Sharm el-Sheikh, different challenges."
Kerry made his comments as the administration of US President Barack Obama seeks to waive the human-rights related conditions normally placed on aid to Egypt. Since the 1978 Camp David peace negotiations, which saw Egypt recognize Israel, the US has provided military and financial aid to its key Arab ally each year.
With Egypt's 2011 uprising, that aid has often been in question, and it was suspended after the ousting of former President Mohamed Morsi in 2013.
Now, Obama's administration is seeking to change US legislation linking aid to Egyptian human rights performance, despite claims of a worsening human rights situation in Egypt.
The planned move has met with some criticism in Washington, with some claiming it may give a green light to government abuses and even feed into radicalization.
However, Kerry pointed out two key reasons why the United States would benefit from supporting the current Egyptian government, despite human rights concerns, according to CNN.
The first relates to the need to maintain influence, which can only be achieved with the help of financial and military assitance, he said.
Addressing senators at an Appropriations committee on Wednesday, Kerry said the US provides Egypt with US$1.3 billion in military aid and $150 million in economic aid every year, while Saudi Arabia and the United Arab Emirates have provided over $20 billion in funding in the past few years.
"Let me ask you who has leverage, who are they going to listen to, where do they think their help is coming from?" Kerry said. "We need to think about this."
The second reason, Kerry said, is the need to deal with chaos and violence across the region, including widespread terrorist activity that could have repercussions for security in the United States.
The importance of US support for the Egyptian government as it faces an ongoing terrorist threat was reinforced last month when Egyptian Foreign Minister Sameh Shoukry visited Washington.
"We believe that the relationship between the United States and Egypt is a resource of importance," said Shoukry, addressing lawmakers. "We hope that the United States will continue to cooperate effectively and to support Egypt during this time."