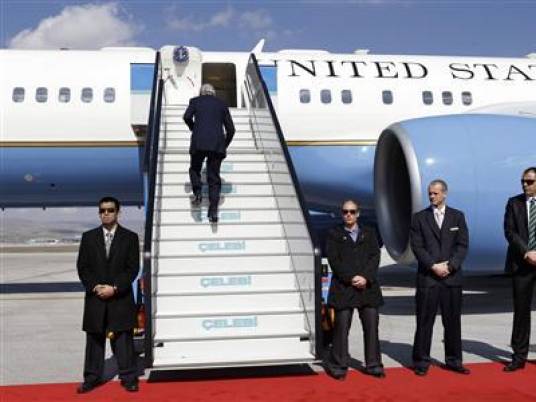 US Secretary of State John Kerry has said that Egyptian opposition leaders are apparently not backtracking on their decision to boycott parliamentary elections slated to start on 22 April.
Kerry, who arrived on Saturday for a two-day visit to Cairo, is schedule to convene with President Mohamed Morsy and Defense Minister Abdel Fattah al-Sisi. He is reportedly expected to discuss with Egyptian officials and opposition leaders the current stalemate over the upcoming elections.
Several major opposition groups, led by the National Salvation Front, have announced an electoral boycott, demanding more guarantees for transparent elections and the formation of a neutral government to supervise it instead of Hesham Qandil's Cabinet.
In statements in Cairo on Saturday, published by the US State Department, Kerry was asked whether his communications with the opposition members had showed any signs of backtracking on the boycott.
"No, I heard very passionate people who are deeply committed to Egypt and to their version of the democracy that they fought for in their revolution. And I completely understand that. I wanted to hear from them. I explored their strategy and thoughts," he replied.
Some NSF leaders had reportedly decided not to convene with Kerry, accusing the United States of supporting the Muslim Brotherhood and seeking to exert pressure on the opposition to take part in the elections.
Kerry's visit is part of a nine-country trip through Europe and the Middle East, during which he will discuss a range of issues with allies, including the Syria conflict.