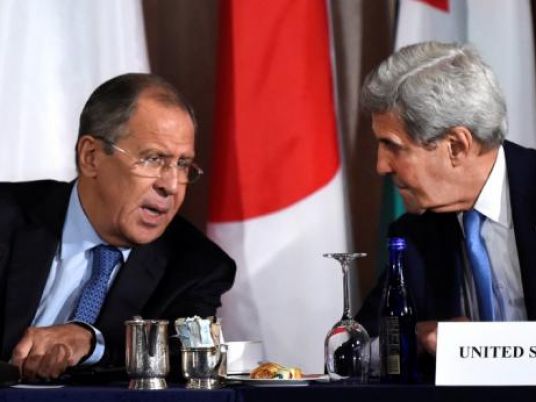 The United States and Russia sent mixed signals on whether any headway was made on reviving a moribund Syria truce amid intense bombardment of Aleppo on Friday suggesting the effort was dead.
U.S. Secretary of State John Kerry said he made "a little progress" on halting the violence in talks with Russian Foreign Minister Sergei Lavrov, who cited no progress and accused the United States of failing to honor the latest ceasefire deal.
"I met with the foreign minister, we exchanged some ideas and we had a little bit of progress. We're evaluating some mutual ideas in a constructive way," Kerry said on the sidelines of the annual gathering of world leaders at the United Nations.
At a news briefing a short time later, Lavrov said little to suggest there had been any forward movement.
Instead, he reiterated Moscow's view that Washington was failing to keep its end of a Sept. 9 ceasefire agreement, one element of which was to separate fighters of al Qaeda-linked Nusra Front from Western-backed opposition rebels.
The ceasefire collapsed on Monday with an attack on a humanitarian aid convoy near Aleppo that killed about 20 people. The United States said Russian aircraft made the attack, while Russia denied involvement and the Syrian government of President Bashar al-Assad, whom Russia supports, blamed "terrorists."
On Thursday, the Syrian army declared an offensive to fully capture Aleppo and warplanes bombed the city, Syria's largest, with what residents described as unprecedented ferocity on Friday.
At his briefing, Lavrov accused the opposition of having violated the truce hundreds of times while Western officials have blamed Russia and Syria for its collapse.
"We want to see any signs which would prove that the coalition has influence on those who are on the ground facing the government," Lavrov said. "Any truce, seven days, three days would be senseless," he said, adding that in any case the U.S.-led coalition had proved its inability to control rebels.
In veiled criticism during his U.N. General Assembly speech earlier, Lavrov quoted George Orwell's book "Animal Farm" to accuse Washington of saying all animals are equal but acting as if some are "more equal" than others.
The United States and Russia are on opposite sides of the 5-1/2-year-old Syrian civil war in which more than 400,000 people have died and 11 million displaced.
Diplomats have said that much of the focus of an international meeting on Thursday to break the U.S.-Russian impasse was to persuade Russia to renew a seven-day ceasefire, but that Lavrov had shown no inclination to accept it. Lavrov said the U.S. had originally asked for three days on Wednesday, which Moscow had accepted, before on Thursday asking for a seven-day ceasefire.
"My fear is that the bombings of the last few hours in Aleppo show that the regime is actually playing the card of partitioning Syria and its backers are letting it happen," French Foreign Minister Jean-Marc Ayraud told reporters.
A member of the Syrian opposition voiced frustration at U.S. efforts to revive the ceasefire.
"Kerry and Obama's administration are going in circles … talking to the Russians, thinking that Russians will have any solutions and can contribute to the ceasefire," said Mutasem Alsyofi of the Syrian Civil Society Declaration Initiative.
"It's clear that the Russians will not do this," he added.