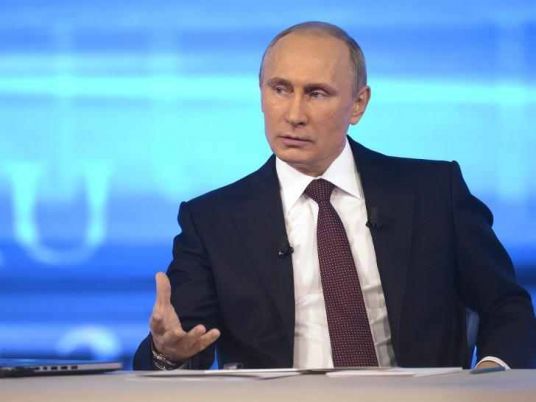 U.S. Secretary of State John Kerry met with Russian President Vladimir Putin about boosting military and intelligence cooperation against Islamic State and al Qaeda in Syria and told him that without "concrete, near-term steps," diplomatic efforts to end the war could not go on indefinitely.
Kerry met Putin for three hours at the Kremlin and their talks lasted until 1 a.m. local time on Friday.
The State Department said Kerry expressed concern about repeated violations of a cessation of hostilities by the Moscow-backed Syrian government. It said the two also discussed the need to need to increase pressure on groups like Islamic State and the Nusra Front, al Qaeda's affiliate in Syria.
Kerry "emphasized that absent concrete, near-term steps, diplomatic efforts could not continue indefinitely," a statement said, adding that discussions between Kerry and Russian Foreign Minister Sergei Lavrov on Friday were expected to explore initiatives in more detail.
On Thursday, the Washington Post published a leaked document it said Kerry would put forward in Moscow calling for intelligence sharing to identify leadership targets, training camps, supply lines and headquarters of the Nusra Front, al Qaeda's affiliate in Syria.
It said strikes against those targets could be carried out by U.S. or Russian jets and expanded coordination would be channeled through a Joint Implementation Group based in the vicinity of the Jordanian capital, Amman.
The extent of cooperation proposed in the document would represent a major U.S. shift after years of rivalry between Washington and Moscow, which support opposing sides in Syria's five-year civil war, but the idea has raised doubts among U.S. defense and intelligence officials.
Kerry declined to comment when asked about the document before leaving for Moscow.
Kremlin spokesman Dmitry Peskov said he would refrain from comment until Russian officials heard from Kerry, but that Russia in general favored cooperation with the United States over Syria.
Putin said at the start of his meeting with Kerry that his last conversation with U.S. President Barack Obama had convinced him that both sides were sincere in their efforts to find a solution in Syria.
"I hope after today's consultations you'll be able to advise him of the progress made and possible headway for us to make," he told Kerry.
A test of Russia
U.S. officials described the visit as a test of Moscow's willingness to use its influence on the Syrian government to help revive the country's peace process.
Under the leaked plan, the United States and Russia would establish separate headquarters and a shared coordination office, where they would deploy senior officials, intelligence personnel and experts in strike planning and targeting.
They would decide on a date to simultaneously begin strikes against Nusra Front targets and to stop all Syrian military air activities in designated areas, except for non-combat purposes and against areas where Nusra Front has acquired territory.
The proposal also allows for Russia to use air power to defend Syrian forces from attack from Nusra Front within a designated area, if agreed in advance with the United States.
A senior U.S. official said before the talks that expectations were "very low", but added: "Either we find a way to do something about it or not.
"And if we don't, the entire things breaks down. That would be an end of the cessation of hostilities and that would not be a good thing for Russia, or the United States, or the world, or, most importantly, for the Syrian people."
U.S. officials said there were two major problems leading to the breakdown of Syria's cessation of hostilities – the failure of the Syrian government to respect it and Nusra Front activity.
"We are here to test in what is pretty much close to the end stage of whether this is going to work, to take a shot with the Russians at whether we can solve those two major problems with the cessation of hostilities and get this back on track," a second senior official said.
Kerry faces some strong opposition to his efforts to woo Russia from U.S. defense and intelligence officials who say Washington and Moscow have diametrically opposed objectives in Syria.
Kerry's trip, his second to Moscow this year, comes amid a worsening of U.S.-Russian ties due to tit-for-tat diplomatic expulsions, U.S. allegations of aggressive Russian maneuvers toward U.S. aircraft and vessels and what Washington has said is a disregard for a cessation of hostilities in Syria, where Russia has bombed U.S.-backed rebels.
Relations also remain strained over Ukraine and what the Kremlin considers NATO's unjustified activity along its borders.
That has raised fears that disagreements could escalate into confrontations, either accidental in Syria or the result of miscalculations in the air and naval encounters elsewhere.