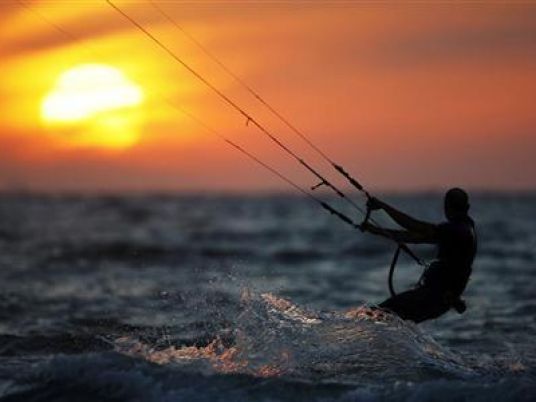 The Red Sea attracts hundreds of tourists of different nationalities who enjoy engaging in watersports and adventures like kitesurfing, which is growing in popularity.
Training centers for kitesurfing have been popping up in different areas along the Red Sea since 2000, notably in cities like Gouna, Abu Soma Bay, Makadi and Safaga.
An international association for kitesurfing has been established due to the increasing demand for the sport among youth.
Harby Rashed, the owner of a kitesurfing and watersports center in Hurghada, says kitesurfing is a special type of sport that is available in France, Spain, the Canary Islands and Hawai, in addition to the Red Sea area.
Winds and the infrastracture required for kitesurfing along Egypt's Red Sea beaches make the area perfect for this type of sport, said Rashed.
Germans and Austrian tourists are the top practitioners of kitesurfing in the Red Sea area.
Kitesurfing needs patience and fitness of mind and muscle, said Rashed, who also commented on the high cost of the sport. The price of the board, the wings and the belt range between 1,500 and 2,000 euros, according to Rashed.
Omar Abdel Samee, chairperson of the organizing committee for the first kitesurfing championship held in the Red Sea, said kitesurfing is one of the fastest growing watersports and it requires the spirit of adventure along with mental and physical fitness.
In championships, there are two types of competitions. In the first, the contestant has seven minutes to do moves that show off his or her skills and the jury evaluates his or her performance.

The second type is a race where contestants have to make a certain distance in the shortest time possible, he added.
Edited translation from Al-Masry Al-Youm