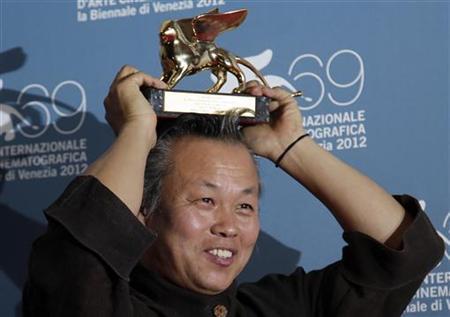 The South Korean movie "Pieta," an ultra-violent story of a loan shark confronted by a mysterious woman claiming to be his mother, scooped the Golden Lion award for best picture at the Venice Film Festival on Saturday.
The other big winner on the night was Paul Thomas Anderson's "The Master," loosely based on the early days of Scientology, which earned him a Silver Lion for best director and a joint best actor award for Philip Seymour Hoffman and Joaquin Phoenix.
All three prizes will be popular on the Lido waterfront, where critics praised Pieta's visceral portrayal of a twisted story of love and revenge, difficult at times to watch but also absorbing and moving in equal measure.
Director Kim Ki-duk sang a traditional Korean song "Arirang" as part of his acceptance speech, and later told reporters: "This is a song that we Koreans sing when we are sad, when we feel alone, when we feel desperate, but also when we're happy."
Asked how he felt about receiving the award, he picked up the Golden Lion and kissed it.
Hoffman, playing a character based on Scientology founder L. Ron Hubbard and Phoenix as his troubled, volatile protege, were clear front runners for the acting prize and both are expected to be in the frame when Oscar nominations are announced.
Hoffman rushed back to Italy to accept the awards on his own and his colleagues' behalf.
"I just got off a plane, like, five minutes ago, literally," he told the red carpet awards ceremony.
"I still have crust in my eyes from the sleep on the plane. I put this suit on in a bathroom, so please don't judge."
He went on to praise Phoenix, who was back to his best form in "The Master" after several years in the acting wilderness.
"Joaquin Phoenix is a life force in this film and I kind of rode that life force, and that was my performance.
"It was really riding his life force because it was something that was untamable and my job was to try to and it was almost impossible, which is kind of the movie."
In examining the founding of the self-described religion of Scientology, Anderson tackled a topic many filmmakers would consider taboo given the support it enjoys in Hollywood and its sensitivity to perceived criticism.
He confirmed he had shown the film to Tom Cruise, a leading Scientologist, and said the two were "still friends."
Religious theme
This year, the theme of religion ran throughout the festival and was also a major factor at the awards ceremony, which brought the curtain down on 11 days of screenings, parties, photo shoots and interviews.
Austria's Ulrich Seidl picked up the Special Jury Prize runner-up award for "Paradies: Glaube" (Paradise: Faith) about a woman's obsessive faith which is sorely tested when her estranged Muslim husband suddenly returns home.
And Hadas Yaron was named best actress for her performance in "Fill the Void," Rama Burshtein's rare glimpse into her own ultra-Orthodox Jewish community in a tale about a young bride torn between love and her obligations to her family.
The screenplay award was won by Olivier Assayas of France for his 1970s political drama "Apres Mai," and Italy's Daniele Cipri was named winner of the cinematography category for "E Stato Il Figlio."
Notable films that did not figure among the prizes included "Spring Breakers," experimental director Harmony Korine's raunchy and raucous tale of hard-drinking college students starring former Disney teen star Selena Gomez.
Terrence Malick, who is revered in some quarters and won the Palme d'Or in Cannes in 2011 for "The Tree of Life," went away empty-handed after "To the Wonder," an impressionistic love story with almost no dialogue, received some stinging reviews.
Another American veteran, Brian De Palma, also saw his reputation dented when "Passion," his steamy sex thriller set in the cutthroat world of advertising, was jeered at a screening.
As well as competition movies, dozens more had their world premieres in Venice, including opening film "The Reluctant Fundamentalist," another film touching on religion, and Robert Redford's political drama "The Company You Keep."