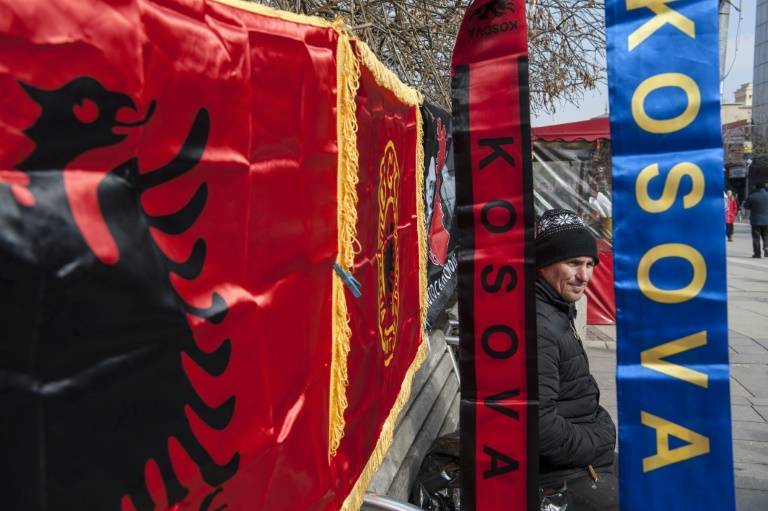 Kosovo on Saturday celebrates 10 years since it declared independence, a moment of pride for its ethnic Albanian majority, although sovereignty remains fiercely contested by Serbia.
The capital Pristina is covered in the blue-and-yellow Kosovan flag for a weekend of festivities, with Kosovo-born British pop star Rita Ora due to headline a concert in the main square on Saturday night.
A decade after a war between Kosovo's ethnic Albanian rebels and Serbian troops left 13,000 people dead — most of them Albanians — the Kosovan parliament declared independence from Serbia on February 17, 2008.
"It was the happiest moment for all of us as a people," said President Hashim Thaci in a statement on Friday, as children in Kosovo's Albanian schools began the day with lessons dedicated to the anniversary.
This was not the case in the completely separate schooling system of Kosovo's Serb minority, which remains loyal to Belgrade. Children from the two ethnic communities rarely mix.
Although more than 110 countries have recognised Kosovo as a state in the past 10 years, Belgrade refuses to do so.
Sovereignty is also rejected by Russia, whose Security Council veto prevents Kosovo from joining the United Nations, and five EU countries including Spain and Greece.
– Partition concerns –
The "normalization" of ties between Belgrade and Pristina is crucial to both sides' bids to join the European Union, but Serbian officials say recognition of independence is a red line.
"Serbia will not recognize Kosovo and it will especially not recognize it in order to become an EU member," Serbian Defence Minister Aleksandar Vulin said on Thursday.
The former foes have reached deals on issues such as freedom of movement since talks began in 2011, but the EU-brokered dialogue has stalled over the past two years.
Federica Mogherini, EU representative for foreign affairs, nevertheless said on the eve of the anniversary that she was "realistically optimistic" that a "legally binding agreement" could be reached by the end of 2019.
Some officials in Belgrade have raised the prospect of redrawing Kosovo's borders along ethnic lines. In the far north, heavily dominated by Serbs, the Kosovo flag is shunned in favor of the red, blue and white stripes of Serbia.
But Thaci insists that Kosovo is "indivisible" and many fear a partition deal would destabilize the fragile Balkans.
Father Sava Janjic, a prominent Serb Orthodox monk in Kosovo, warned that the "collapse" of a multi-ethnic Kosovo would be a dangerous precedent for the region.
"The Balkans will again become a powder keg," he wrote on Twitter on Friday.
The Kosovo war started in 1998 and came to an end the following year when Belgrade pulled out after NATO bombarded its forces, citing a need for a humanitarian intervention.
– Trump applauds progress –
From Washington, one of Pristina's staunchest allies, President Donald Trump, sent his congratulations to Kosovo for making "great strides in strengthening its sovereignty and multi-ethnic democracy".
"While more work must be done, we applaud your progress."
Kosovo's ties with the West have at times been strained in the past year, as it awaits the first indictments from an EU-backed war crimes court trying former members of the Kosovo Liberation Army.
A number of leading KLA figures, such as Thaci, remain dominant in Kosovo and ruling coalition MPs recently attempted to block the tribunal — a move that sparked strongly worded warnings from the US and other Western allies.
Kosovo's milestone is also marred by huge economic challenges. With the unemployment rate at around 30 percent — and 50 percent among young people — tens of thousands have moved abroad in search of work over the past decade.
Home to 1.8 million people, Kosovo is one of the poorest parts of Europe and hugely dependent on remittances from its diaspora to drive economic growth of around four percent.
"The conditions for a decent living in Kosovo have not been fulfilled, so it is clear why people are leaving," said law student Berat Mumi, 17, in Pristina.