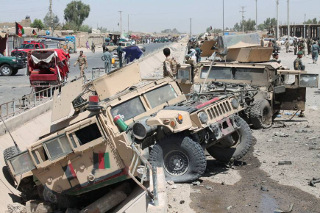 A local official says 10 people, both military and civilian, have been killed after a suicide car bomber attacked an Afghan army convoy in southern Helmand province.
Atiqullah Khan, local director of Nawa district, said Sunday that most of those killed were soldiers who were the target of the bombing. He says at least eight others were wounded.
Omer Zwak, spokesman for the provincial governor in Helmand, confirmed there were causalities but couldn't provide an exact number.
No one has claimed responsibility for the attack, but Taliban fighters have stepped up attacks against Afghan security forces over the past two years and after the withdrawal of most foreign combat troops.
___
7:25 p.m.
An Afghan official says two police officers, including a district police chief, have been killed when their convoy was attacked by militants in western Nimroz province.
Gen. Jialani Abubaker, provincial police chief in Nimroz, said Sunday that Abdul Hakim, Dilaram district police chief, and another district police officer were killed in an ambush.
No one has claimed responsibility for the attack, but Taliban insurgents are active in the province, especially in the Dilaram district where the attack took place.
Abubaker said Hakim was returning to duty from the provincial capital Zaranj when he was killed.
Dilaram is a remote district about 240 kilometers (150 miles) from Zaranj.