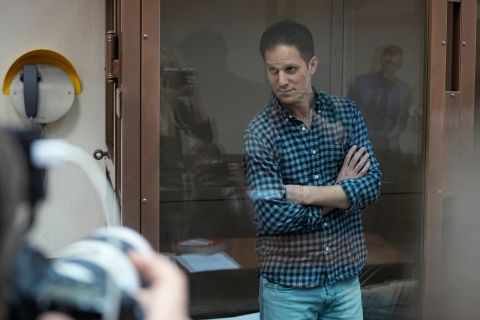 The lawyer for jailed Wall Street Journal reporter Evan Gershkovich says he is doing well but is only able to receive letters in Russian due to the prison rules.
Tatiana Nozhkina, who was retained by the Wall Street Journal to represent Gershkovich, said all of his letters are "censored," but he has sent and received letters from family and friends.
Nozhkina told the Russian language channel Current Time TV that she was "constantly in touch with Evan's mother, we support her as much as we can, we send her regards, as Evan is very worried about her state of health."
She said she could not divulge the specifics of the criminal case as it has to do with state secrets, but reaffirmed that Gershkovich rejects the accusation.
Nozhkina said she and her colleague Maria Korchagina, who also represents Gershkovich, visited the journalist in the Lefortovo pre-trial detention center with permission from investigators. The lawyers have the opportunity to visit Gershkovich in Lefortovo about once every three weeks, she said.
Gershkovich was in quarantine when he was first brought to Lefortovo but has since been placed in a cell with another inmate.
She added that Gershkovich reads and writes notes that he plans to turn into a novel or work. He also has a TV in his cell and is granted one hour of walking per day which he uses to exercise.
Nozhkina declined to comment on suggestions by some Russian officials that discussions about any prisoner exchange involving Gershkovich could only take place once a verdict was reached.
"How soon the verdict will take place will also depend more on the investigating authorities and, in the future, on the court," she added.