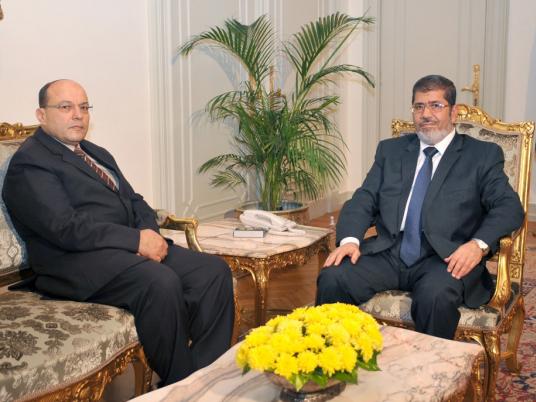 Prosecutors are planning a three-day strike next week in protest against Prosecutor General Talaat Abdallah's reversal of his earlier resignation.
The lawyers agreed on several resolutions during a meeting at the Judges Club Wednesday, including suspending work from 8-10 January and filing a complaint with the Supreme Judicial Council against Abdallah on accusations he interfered with investigations into presidential palace protest violence last month.
Abdallah, who was appointed by President Mohamed Morsy in November via a constitutional decree, initially said he would step down after hundreds of prosecutors demonstrated in front of his office to press for his resignation. Judicial officials say the president does not have the authority to remove their members from office, as Morsy did Abdallah's predecessor, Mubarak-era appointee Abdel Meguid Mahmoud.
Lawyers and judges were also angered by allegations from investigators that Abdallah and the presidency had ordered the detention of dozens of protesters following clashes between pro- and anti-Morsy groups outside the palace last month despite a lack of evidence against them.
However, Abdallah has backtracked since announcing on 18 December that he would resign, saying shortly after that he had made the initial announcement under pressure from prosecutors and that capitulating to this pressure would set an unacceptable precedent.
Prosecutors said Wednesday they would press the Supreme Judicial Council to decide on the resignation that Abdallah previously submitted to the body and challenge the council's decision to refer the matter to the justice minister. The attorneys said they would decide on additional collective action once the council has a chance to meet.
They also rejected the justice minister's invitation for a meeting in his office and requested instead that he attend their meeting on 12 January.
Judges Club head Ahmed al-Zend told Al-Masry Al-Youm that Justice Minister Ahmed Mekky's attendance at that meeting would help resolve the matter.
Edited translation from Al-Masry Al-Youm