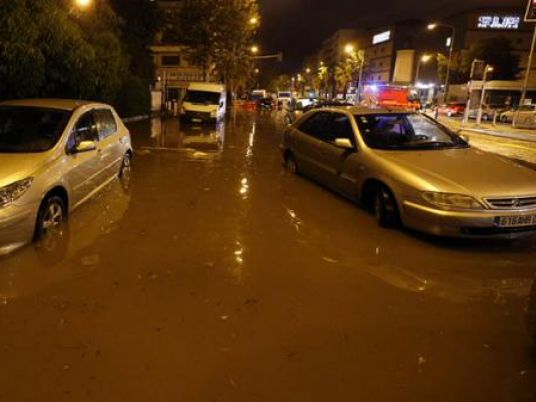 Violent storms and flooding along the French riviera killed 13 people by early Sunday, emergency responders and local officials said, including three who drowned in a retirement home inundated when a river broke its banks.
Five others are believed to have died as they sought to park their cars under shelter, according to local authorities, while emergency responders said three others drowned in their car when it became stuck inside a tunnel.
Heavy flooding along the Cote d'Azur, in France's southeast, saw the River Brague burst its banks close to the city of Antibes and sent deadly waves crashing into the nearby home for the elderly.
A woman in her sixties also died on the street in the resort city of Cannes when huge storms hit the region on Saturday night, sending water and debris coursing down submerged roads in the famous festival town and in its glamorous neighbor, Nice.
"Some cars were carried off into the sea," said Cannes Mayor Davis Lisnard, describing water levels reaching halfway up car doors and trees left uprooted on the city's main drag.
"We have rescued a lot of people, and we must now be vigilant against looting," he added, announcing that an emergency plan was now in effect to mobilize police, emergency responders and municipal services.
The areas worst-hit by flooding were also the hardest to access, officials said, raising fears the death toll could rise again, while 35,000 homes were confirmed to be without power.
French rail company SNCF said around a dozen trains had to be halted with hundreds on board for the safety of passengers, while roads around Antibes were also flooded, according to French emergency services.
"Camp sites are under water, and two helicopters are circling to ensure the public's security, as some people are stuck on the roof of their caravans," said a spokeswoman for the fire brigade.
Up to 500 tourists, mostly British and Danish nationals were stuck overnight at Nice airport, while a Nice-Nantes football match was also interrupted by the downpours.
Forecasters at France's weather agency said the worst storms had now passed over the French mainland and were headed for the Italian coast.
Nice's mayor's office has estimated the city received 10 percent of its average annual rainfall in the past two days alone.