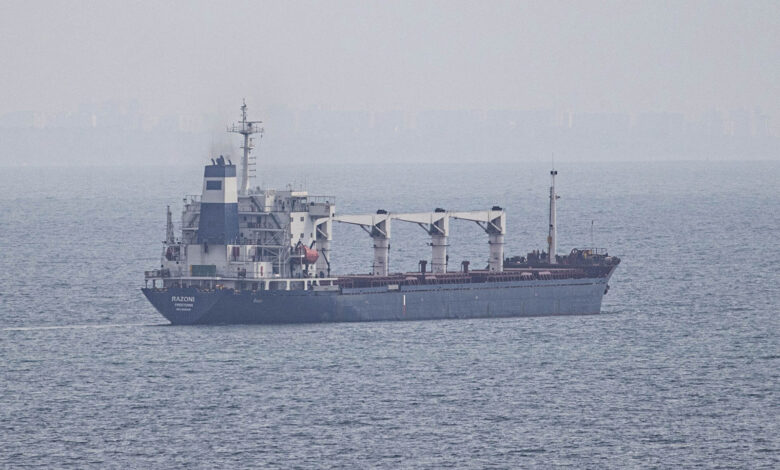 A Syrian-registered ship accused by Ukraine of carrying stolen grain has been allowed to leave Lebanon by authorities, Lebanese state-run news agency NNA said on Thursday.
"The Syrian ship, LAODICEA, is now outside Lebanese territorial waters," Lebanon's caretaker Minister of Public Works and Transport Ali Hamie said on Twitter.
Ukraine said the ship, which was previously docking in the port of Tripoli in Lebanon, is transporting tons of agricultural products stolen by Russia.
The vessel belongs to the Syrian state shipping company SYRIAMAR and was photographed passing through the Bosphorus strait onto the Mediterranean on July 23.
"The Syrian ship, LAODICEA, coming from the Russian Federation, passing through Lebanon to Syria, was granted permission to leave by the Tripoli Port Authority, in accordance with the Lebanese legal principles, based on our sovereignty over our land, sea and air," NNA quoted Hamie as saying.
Ukraine's foreign ministry said in a statement that it was "disappointed" by the decision to allow the ship to leave, warning that Lebanon was endangering economic relations with Ukraine.
"This decision actually encourages Russia to continue thefts in the temporarily occupied southern Ukraine with a sense of impunity. In addition, with such a decision, Lebanon actually undermines its own food security, pushing Ukraine away as its reliable partner," the statement said.
The Russian Embassy in Lebanon had denied the grain is stolen, according to a statement on Facebook last week.