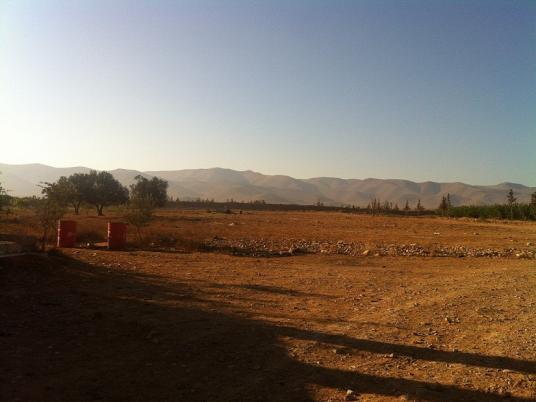 Explosions, including five suicide bombings, shook a Lebanese border town early on Friday, killing a Syrian girl and wounding seven Lebanese soldiers as the army raided several refugee settlements, the military said.
The Lebanese army has been battling militants who have thrived in the border area with Syria during its war, now in its seventh year. Lebanon has been grappling with an influx of over a million Syrian refugees who escaped violence at home to find refuge in the neighboring country.
The raids and a subsequent security sweep earned the Lebanese military much praise. But they also stirred up a storm among Syrian activists after pictures surfaced of rows of detainees with their faces to the ground, many bare-chested and their hands cuffed. The Britain-based Syrian Observatory for Human Rights called for their immediate release.
According to an army statement, the soldiers were conducting early morning raids in the town of Arsal when the attacks took place. The town and the surrounding area was the scene of a major cross-border attack in 2014, when a number of Lebanese soldiers were abducted.
The military said one suicide attacker blew himself up among a family of Syrian refugees during the raid in al-Nour settlement, killing a girl.
Also in al-Nour, three soldiers were wounded when a suicide bomber detonated his suicide belt near them. Three other men wearing suicide vests blew themselves up. It was not clear which of the four suicide bombings killed the girl. Attackers also detonated an explosive device while a military expert defused four others, the army said.
In another settlement, al-Qariya, a fifth suicide bomber blew himself up but no one was hurt. However, four soldiers were wounded when a hand grenade was tossed at them.
Lebanon's army commander Brigadier General Joseph Aoun visited Arsal later on Friday, praising his troops for "their bravery in confronting the terrorists and for carrying out their mission with high precision and professionalism." His comments were carried by the official Lebanese News Agency.
"What happened today reaffirms once again the army's decisive decision to eradicate terrorist organizations, their cells and members, wherever they are on Lebanese territory and regardless of the cost and sacrifices," Aoun was quoted as saying.
France, a major supplier for the Lebanese army, condemned the attacks, reaffirming its support for the stability of Lebanon.
Al-Jadeed TV and other local media reported that about 400 people were detained during and after the raids, including some wanted militants believed to belong to an al-Qaida-linked group and the Islamic State group.