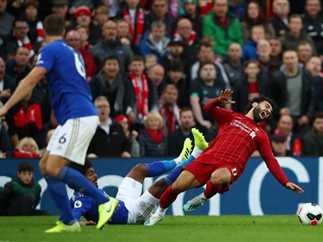 Leicester City midfielder Hamza Choudhury, 22, was recently the subject of racist posts on social media by Liverpool fans after the player caused an injury to Liverpool star Mohamed Salah during their Saturday match, according to British press reports quoted by Sky News Arabia.
The racist abuse prompted Leicester City to report the messages to the police.
Liverpool's Mohamed Salah suffered a knee injury during Saturday's Premier League match against Leicester City.
Liverpool scored a tough 2-1 win over Leicester via penalty at the close of the match, garnering the team's eighth consecutive victory.
The team suffered the loss of Salah, though, who left the match just before the end following a fierce intervention from Choudhury.
After the match, Liverpool manager Juergen Klopp was outraged by Salah's injury. Salah has been the Premier League's top scorer for two consecutive seasons.
Asked if Salah was okay, Klopp snapped back: "How can he be okay? He was limping from the pitch and you ask me if he's okay! How can he be okay?! … We don't know how he is."
"Three years in a row we've been the team with the lowest yellow cards, always the fairest team. We don't do these things. But that's to slow Mo down–that's really not okay," he said.