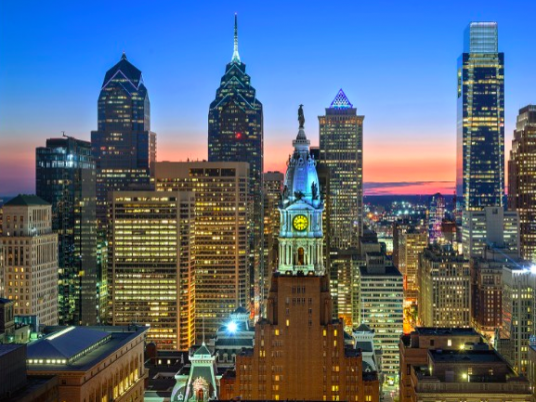 Travel experts at Lonely Planet have declared 2016 the year of Philadelphia, as it marks the 40th anniversary of the iconic film "Rocky" this year.
In their list of 10 best US destinations, the travel guide gave Philadelphia the top spot – the latest in a string of accolades for the city.
Last year, Philadelphia became the first World Heritage City in the US, a distinction it shares with Paris, Rome, Cairo and Kyoto.
The designation, announced at the world Congress of the Organisation of World Heritage Cities in November, recognises the city's importance in American history as the home of Independence Hall, and the place where the Declaration of Independence was forged to birth a new nation in 1776.
The city also played host to Pope Francis last autumn.
This year the momentum continues, as Philadelphia will host the Democratic National Convention in July and mark the 40th anniversary of the "Rocky" franchise, which was recently revived in part thanks to the 2015 film "Creed" in which Sylvester Stallone reprised his role as Rocky Balboa.
"Craft breweries? Check. Hot new locavore restaurants? Big check," say LP editors.
"Philadelphia is steadfastly managing to retain its historic roots and gritty flavour, as well as its affordability – a pleasant surprise for a city so cosmopolitan and accessible."
Cities on the list represent the most exciting, intriguing and up-and-coming US destinations and are predicted to shine in the year ahead.
"Some of our choices are perennial favourites, while others are just stepping into the spotlight, but all have one thing in common: now is the time to go."
After Philadelphia, editors chose Natchez, Mississippi, which fetes its 300th anniversary this year with 300 events ranging from music festivals, hot air balloon races to historical celebrations, and a major birthday party in August.
Rounding out the top three spots is Yellowstone National Park, the world's first national park which will anchor the US National Park Service's centennial anniversary this year.
Here are the top 10 US destinations to visit in 2016, according to Lonely Planet:
1. Philadelphia, Pennsylvania
2. Natchez, Mississippi
3. Yellowstone National Park
4. Birmingham, Alabama
5. Alaska
6. Somerville, Massachusetts
7. Northwest, Arkansas
8. San Antonio, Texas
9. Southern New Mexico
10. Milwaukee, Wisconsin.