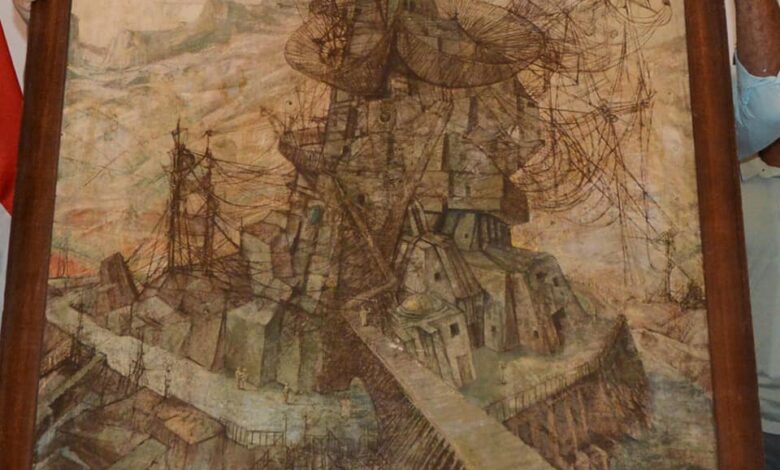 The Egyptian Culture Ministry on Tuesday retrieved a lost painting by Egyptian painter Abdel Hadi al-Gazzar, missing for over 50 years.
The ministry said it managed to recover the painting "Inspired by the Red Sea Lighthouses", lost since the decision to decommission the building of Culture Ministry in Garden City in 1971.
In a statement, the ministry explained that after news spread about the sale of a painting, the Fine Arts Sector headed by Khaled Sorour issued a warning against dealing with this painting.
He explained it was one of the holdings of the Egyptian government and represents an integral part of the cultural and heritage identity and the Egyptian plastic art movement.
After the statement was issued, the holder of the painting contacted the daughter of Gazzar, Fayrouz al-Gazzar, stating he was interested in handing the painting over.
Culture Minister Enas Abdel-Dayem then formed a technical committee to examine the work, which verified its authenticity.
The Minister of Culture decided to put the painting in the Museum of Modern Art to be an addition to its valuables.
She thanked Fairouz al-Gazzar for her insistence that the painting be returned again to the Culture Ministry and that it be available to the public in Egypt and the world, as well as saluting the Mohamed Abdel Malek Contracting company for their prompt initiative to hand the painting over to its owners.
Unbelievable find
The son of the owner of the contracting company, Hisham al-Hawary, said he found the painting inside a scrap store belonging to the company owned by his father.
Hawary said that his father's company was specialized in demolition work and was established in the nineties, and he was in charge of demolition work for government facilities.The painting was among the rubble and scrap that had been placed inside the warehouse 20 years ago.
He continued: "A while ago I decided to open a cafe, and I brought out some things and paintings that might be suitable for decoration in the cafe, and the shape of the painting was wonderful, and it was displayed in the cafe for eight months."
"One of the cafe customers liked the painting and photographed it, and after a while he contacted me and offered me LE 2 million for the painting."
"After researching, I concluded that the painting is rare and owned by the Egyptian Culture Ministry and is not allowed to be sold, and that it is priceless. I contacted my company's lawyer, who in turn contacted the Culture Ministry to hand over the painting," he said.