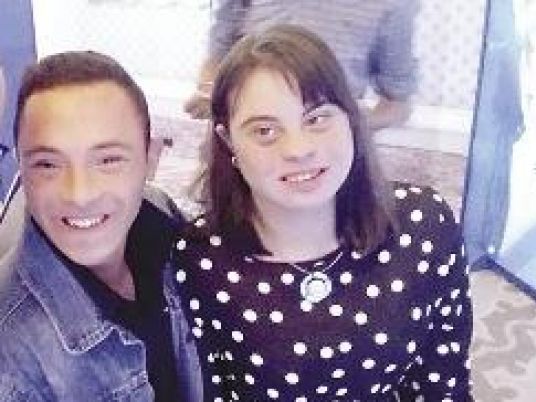 Mahmoud al-Bary, 21, and Dina Tarek, 20, refused to accept that their love was impossible, as society viewed it. Theirs is a story of two people who have decided to share their lives as a couple, despite their learning difficulties, which many would identify as disqualifying factors for a genuine romance.
Their love story started last July when they were both competing in the IPC Swimming World Championships, a swimming competition for disabled people. Amal Mobtada, the president of the Egyptian Federation for the Disabled says that the federation, along with the charity organization Masr al-Kheir, urged the couple to move forward and make their love official. On September 19 they finally got engaged.
Mobtada says that the federation will help Mahmoud and Dina on the tough road ahead. She reveals that several celebrated singers have already offered to sing at their wedding, the most prominent among them being Egyptian pop song-bird Tamer Hosny.
While the federation and charity organizations have been active in supporting the couple, both their families have also been very supportive of the marriage. Dina's mother, Randa al-Bastaweesy explains that they went about it the same way as anyone else. There was no resistance to the marriage from the family's side, she says, but society still needs to change its views with regard to marriage between mentally disabled people.
The same was said by Mahmoud's father, Safwat Abd al-Bary, who said that life is full of challenges and hardships, but love can make the impossible possible.
Yesterday, Mahmoud and Dina participated in an international forum for public relations and media, Narrative PR, at which they confirmed their belief in their relationship and how it will continue regardless of any future obstacles.
Mahoud said, "Dina's love has taught me about real happiness in the world, and I know we will make it through anything. Dina, I love you."