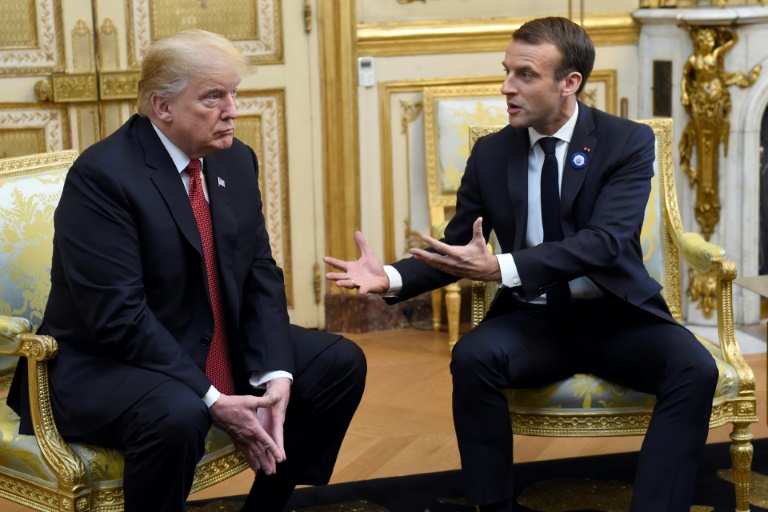 French President Emmanuel Macron attempted to defuse a row with visiting US counterpart Donald Trump on Saturday, hailing the "great solidarity" between their countries after Trump blasted his proposals for a European army.
The two leaders held talks at the presidential palace in Paris ahead of World War 1 commemorations taking place in the shadow of a new nationalist surge worldwide.
Their body language was markedly less warm than during Trump's last visit to Paris in July 2017, underscoring a general cooling in relations which were further strained by a late-night tweet by Trump attacking Macron.
Appearing anxious to appease Trump, who has accused the EU of failing to pull its weight on NATO spending, Macron said he shared his view that "we need a much better burden-sharing within NATO".
His calls for closer European integration on defense would mean "more Europe in NATO", he argued, later patting Trump's knee affectionately.
Trump, who appeared more aloof, described himself and Macron as "very good friends" and said he "appreciated" the remarks about burden sharing.
"We want a strong Europe. It's very important to us to have a strong Europe," he said.
'Very insulting'
Trump's visit, which kickstarts two days of events marking the centenary of the end of World War 1, had looked set to be tumultuous after he fired off a tweet on arrival in Paris late Friday berating Macron's calls for a European army.
"President Macron of France has just suggested that Europe build its own military in order to protect itself from the US, China and Russia," the US president tweeted, referring to remarks made by Macron three days earlier.
"Very insulting, but perhaps Europe should first pay its fair share of NATO, which the US subsidizes greatly!," he added.
Trump appeared particularly irked by the French leader's referral to the US alongside China and Russia as national security threats.
In a Europe 1 radio interview, Macron had referred to Trump's plans to pull the US out of a Cold War-era nuclear treaty and said a joint European Union military force was needed to wean Europe off reliance on the United States.
"We are being hit by attempted break-ins in cyberspace and interventions elsewhere in our democratic lives," Macron said.
"We have to protect ourselves with respect to China, Russia and even the United States," he said, calling Europe "the principal victim" of Trump's decision to abandon the missile treaty with Russia.
Macron's office on Saturday acknowledged that his remarks "could create confusion" but stressed: "He never said we need a European army against the United States."
After their talks Trump and Macron had lunch with their wives Melania and Brigitte.
On Saturday evening the US leader was to join Russian President Vladimir Putin, Turkey's Recep Tayyip Erdogan and nearly 70 other world leaders at a dinner at the Orsay Museum ahead of Sunday's solemn commemorations at the Arc de Triomphe under which lies the tomb of the Unknown Soldier.
The events cap a week packed with symbolism to remember the silencing of the guns, with memorials held across the world for a conflict that claimed around 18 million lives and involved more than 70 current-day nations.
Macron, a centrist, has repeatedly invoked the war in recent weeks to hammer home his message that rising nationalism is again destabilizing the world.
On Saturday afternoon he will meet German Chancellor Angela Merkel in the northern town of Compiegne where the armistice ending the war was signed by the Allies and Germany in a forest clearing on November 11, 1918.
The visit is intended to symbolize the close ties between two countries that fought three wars between 1870 and 1945 but are now seen as the lynchpins of peace in Western Europe.
Trump to skip peace conference
The isolationist US leader has ducked out of a peace conference Sunday, which Macron and Merkel intend to use as a platform for promoting multilateralism.
Trump and Macron struck up a warm relationship initially but have repeatedly clashed since over a growing list of issues, including Trump pulling America out of the 2015 Paris climate accord and the Iran nuclear deal.
The WWI commemorations come at a watershed moment for the liberal post-war order, with anti-immigration populists at the helm in the US and Brazil, sharing power in Italy, and making strong gains in Germany, where Merkel has announced her resignation in 2021.
On Friday, Merkel met British Prime Minister Theresa May near the Belgian border to try to make progress on a Brexit deal and remember the fallen on the battlefields of the Somme.