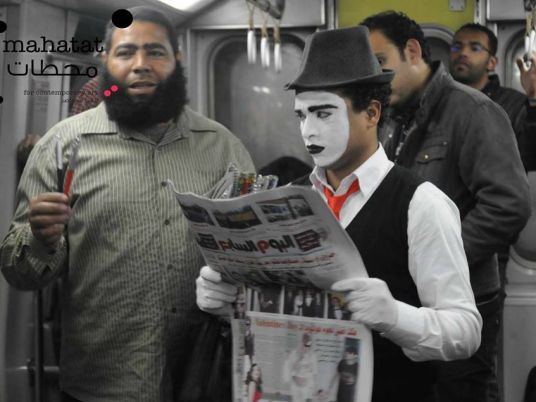 Stretching back into history, the streets of Egyptian towns and cities have often been filled with the sounds and colors of street performance — from the dynamic Islamic street celebrations known as "moulids" to "aragoz" puppet shows. But over the years, the sight has become increasingly rare, fading into history.
Mahatat for Contemporary Art, a mobile art initiative, is trying to revive the phenomenon of art in public spaces by hosting artistic projects in the streets, and touring throughout the country.
This week, with Al-Masry Al-Youm as media partners, the group brings a series of interactive, engaging art installations and performances to various cities of the country, with an aim to startle, impress and transport the Egyptian public to different times and places through their art.
Mahatat was established in 2011 by a group based in Cairo, since then it has given performances and workshops to art audiences, artists and cultural operators. One of Mahatat's first projects was called Shawarena "Our streets", a series of dynamic performances inside Cairo's metro.
"When we first launched we worked only in Cairo and Alexandria, but now we are expanding to other governorates including Portsaid, Dameita and Mansoura, and we are building a concrete network of contacts there," said Farida Hammad, a strategic planning director at Mahatat.
"Our main aim is to support accessibility and decentralization of contemporary art. We are bringing it to the streets by increasing the presence of art in public spaces and [laying on] community art projects, in the belief that this is the right of every citizen," she said. "People may say it's a European cultural phenomenon but we need to acknowledge that, in fact, it's an old Egyptian cultural tradition which took place during the 30's and 40's on Egypt's streets."
Hammad said that the initiative is trying to present passersby with something unique, which could be in the form of performance,concerts, theatre shows, street cinema or even opera recitals.
Hammad said they try to use artists local to each city for performances, to revive the traditional art forms particular to that place. "The selection of governorates we work in based on their cultural features as well," she said, "for example Port Said is famous as the home of the "Semsemia, (Egyptian harp) so a [harp] recital will engage the community".
As part of Mahatat's "Art of Transit" program, the group is touring Egypt with the Awtar String Quartet to bring classical music to the streets. "These street performances bring the [musical genre] out of the traditional and typical box to which it is usually confined," said Mahatat in a press statement.
This week, Mahatat is running a two-day event in Damietta and Mansoura, from the 18-19 July, where passers-by could be serenaded by "Scheherazade" from Rimsky-Korsakov's "Arabian Nights " or astounded by classically trained singing voices so uncommon to current street culture.
These performances hope to divert people from the daily grind by offering a moment of escape, allowing audiences to enjoy a fun moment of impromptu interaction with the musicians and other passersby.
Before Damietta and Mansoura, Mahatat brought Portsaid alive with a two day event entitled, "City Shadows" on July 16 and 17.
The event was an exhibition of sound archives, photography and music, presenting stories from the city's history often heard by word-of-mouth but rarely documented. The installation revolved Port Saidi popular culture and how the citizens are woven into their city's heritage and history.
History is so often recorded as a series of official dates and events. But Mahatat brought the message that the history of a people, with their stories and human experiences, is an equally essential treasure in time.
"Portsaid ala adimo" was one of our partners, and helped us bring our event to the nooks and crannies of the city. We uncovered many hidden and time-honored places through walking and bicycling around Port Said," Hammad said.