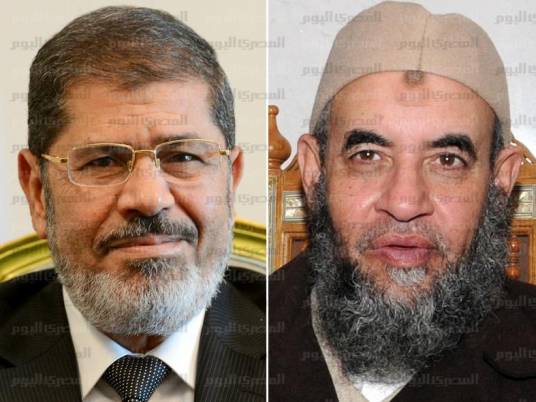 The leader of Egypt's Islamist Nour party urged his sometime ally President Mohamed Morsy to make concessions to avert bloodshed and presented himself on Sunday as a mediator with protesters on the streets.
Morsy's opponents staged the biggest rallies since the downfall of dictator Hosni Mubarak on Sunday to demand the resignation of Morsy a year after he took office.
Younis Makhyoun, whose ultra-Orthodox Islamic Nour Party helped Morsy wield power but has since distanced itself from Islamist factions rallying round him, told Reuters protesters were "wrong" to try to topple Egypt's first elected leader. But he said Morsy could still be brought down unless he compromises.
"There must be concessions, even if they are difficult and bitter, to safeguard the blood of Egyptians," Makhyoun said in a rare interview. "We are worried about an escalation that will be hard to control, and that guns will have the loudest voice."
Morsy could no longer simply ride out protests as he has in the past, Makhyoun said, floating the suggestion that Morsy might be forced to hold referendum on staying in office.
"The president is banking on the idea that this will be a mass protest, like the other protests, and there will be some losses, and then things will settle down," Makhyoun said.
"But this time matters are different." He added: "We don't want to survive this crisis, we want to solve it."
He suggested his own party, which took more than a fifth of parliament seats 18 months ago, could act as mediators: "We have bridged open to all the people".
Nour is the biggest Islamist group after the Brotherhood. It emerged following the 2011 uprising and came second to the Brotherhood in parliamentary elections held later that year. Following Morsy's win, Nour cooperated with the Brotherhood in fast-tracking into law a controversial constitution last year.
But Nour has distanced itself from the Brotherhood this year, joining the critics who accuse Morsy and his movement of seeking to dominate public life. Nour has taken a neutral position in the run-up to the rallies called by Morsy's supporters and opponents, refusing to take part in either.
Makhyoun said the Nour Party had met Morsy together with other Islamist parties two days ago, but the president had shown "no vision" in the discussions.
Makhyoun, a 58-year-old dentist, also had harsh words for the loose alliance of liberal and leftists parties known as the National Salvation Front. He said they too were stubborn.
"They are good at talking behind microphones and are trying to ride the wave of anger," Makhyoun said. "They do not represent the Egyptian people."
Outlining one possible way out, Makhyoun said Morsy should call opposition groups for talks to pick a new prime minister who would form a technocratic government to run parliamentary elections, a proposal that has been made in the past.
But he added it may be too late, as the opposition had escalated its demand to insist on early presidential polls.
"What I am afraid of is that the army will be forced to intervene in political life if the country slides into a civil war or anarchy," he said. "If we reach the stage where we are facing a choice of civil war or the army, it is natural, of course, to say 'Yes' to the army."
While Nour has distanced itself from Morsy, other religious groups have drawn closer to the president and the Brotherhood, including the once-armed al-Gamaa al-Islamiya. Makhyoun criticised recent rallies called by the Brotherhood during which one hardline cleric described Morsy's opponents as "infidels."
"This is one of the scandalous mistakes that Dr. Morsy made in the last period," Makhyoun said.
He added: "We are accused by some of the Islamist parties of dividing the Islamic camp, and being against the Islamic project. That is totally untrue. In our opinion, it is what is happening now that is weakening the Islamic project."