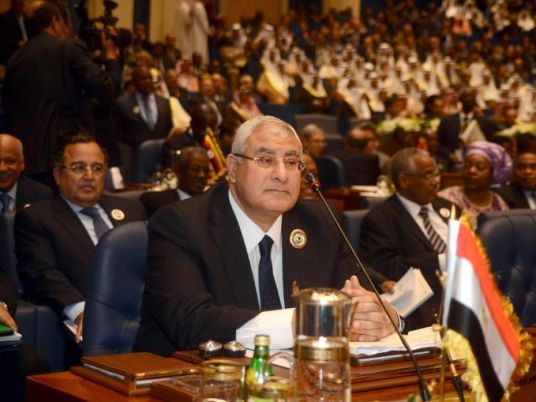 Interim President Adly Mansour publicly thanked the Arab countries for supporting Egypt during its interim phase.
In the closing statement of the 25th Arab Summit held in Kuwait, Mansour said, "You truly showed the spirit of Arab fraternity, as you showed in a stage that was one of the most dangerous stages of development in Egypt."
"Hosting the coming summit in Egypt in a such critical time is a message of Arab solidarity both locally and internationally that everyone should understand," he added.
Mansour said on Tuesday in his speech in front of the summit that the struggle of Arabs for development "requires preventing intervention within local affairs, supporting local choices of every country and not getting involved in intervention seeking authority or role, which will lead to nothing but division among Arabs," indicating to Qatar, after Egypt and Gulf Cooperation Council countries severed diplomatic ties in protest against what they called intervention in local issues.
Edited translation from Al-Masry Al-Youm