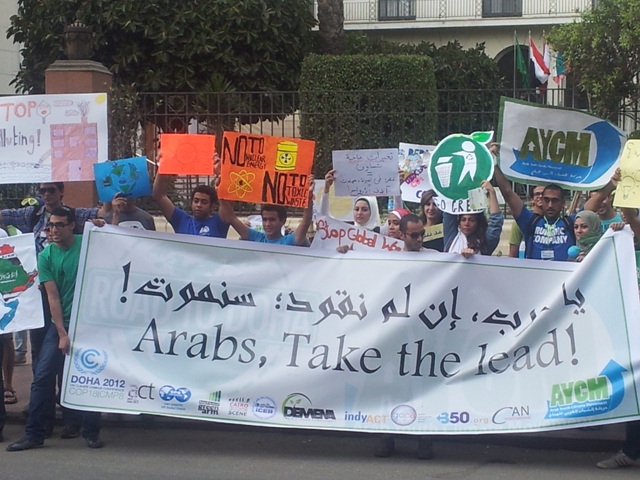 Aiming to increase awareness about climate change and urging Arab countries to take the leadership at the upcoming United Nations Climate Change summit in Doha, environmental activists organized a peaceful march last Saturday across Qasr al-Nil Bridge to the Arab League headquarters, with banners stating, "Arabs, take the lead!"
The activists are from the Arab Youth Climate Movement, an independent body established in September, ahead of the UN summit. The summit will be held in Qatar — the first time it will be hosted by an Arab country — from 26 November to 7 December.
The movement unites youth in 13 Arab countries who simultaneously organized peaceful marches to call for serious action against climate change.
Many well-known environmental movements and NGOs joined the march, including Cairo Bike Scene, the Green Arm of Nahdet al-Mahrousa, the Global Campaign for Climate Action, 350.org, DEMENA Youth Climate Ambassadors and the International-Curricula Educators Association, among others.
Ahmed Younis, the Arab Youth Climate Movement's media coordinator, is convinced that hosting the summit in Qatar is a golden opportunity for Arab countries to lead the negotiations, and take a progressive stand toward reaching fair and strong climate agreements.
"We look at Arab governments as partners. We need them to know that their decisions will shape our future," he notes. "I really hope they will look at the youth and listen to their demands in the coming days."
Lama al-Hatow, a climate activist for IndyAct, a group of independent climate activists, and founder of the Water Institute for the Nile, says Egypt's position is quite difficult in climate summits, because the country is a prominent member of both the Arab and African groups of negotiators.
"The Arab and African groups have very different positions," Hatow explains. "Africa has one of the more progressive delegations, and the Congolese negotiators, who are chairing the group, are very good negotiators. Some Arab states, however, have played a more obstructive role."
In the Arab group, the Gulf Cooperation Council has a lot of influence, and it could lose oil revenue if a climate agreement is made, Hatow says.
Younis says that most problems in the region come from using fossil fuels as a main energy source without paying attention to their destructive impact on the environment. The consistent use of harmful chemicals for agriculture is also one of the main factors leading to climate change.
"Thus, we aim to urge Arab decision makers to start adopting renewable energy sources, and find ways to rationalize water consumption and generate energy from waste materials," Younis says. "By solving global climate change problems, we are actually solving our local problems as well."
Sara Rifaat, 350.org's general coordinator for the Arab world, also participated in the march. Her movement is a global campaign that started in 2009 aiming to decrease the amount of carbon dioxide emissions in the atmosphere to 350 parts per million — the safe limit defined by scientists.
"350.org seeks to push policymakers to take serious steps to reduce carbon dioxide emissions, especially by reducing fossil fuels consumption," Rifaat says, adding that her groups supports the Arab Youth Climate Movement and hopes to take its aim forward.
Menna Salama, president of the Anti-Cancer Team at the American University of Cairo, was another participant in the march. She says there is a serious connection between climate change and the increasing numbers of cancer patients in the country.
She says that while smoking is considered the main cause of lung cancer worldwide, in Egypt, scientific research shows that air pollution is the main cause.
"Because November is the global month for lung cancer awareness, we found it useful to support this movement to help people know how climate change and air pollution can directly affect their health. We also give them advice about the preventive measures they must follow to protect themselves," Salama explains.
The need for education and awareness prompted several campaigns to take part in the march.
Mostafa Medhat, the youth movement's coordinator for the Arab region, explains that since the Arab Spring started two years ago, people have tended to prioritize political interests over environmental issues.
"People in Egypt don't know about climate change and other environmental problems unless they studied these fields or are working in them," he says. "Unfortunately, people don't volunteer to know about these environmental problems or solve them."
Therefore, he says, the movement plans to organize awareness campaigns and workshops for people who don't know about climate change issues to teach them how to save resources and become more active as citizens.
Similarly, Gihan Soliman is the head of the International-Curricula Educators Association, whose goal is to promote a culture of responsible citizenship using the education reform to promote cultural enrichment in Egypt and abroad. She blames the education system in particular for people's ignorance about climate change.
"Most people in Egypt aren't aware of climate problems because our educational curricula don't include enough environmental information," Soliman says. "People need to know that caring about the environment is not a luxury, and that it relates to every single aspect of our lives."
Arab Youth Climate Movement coordinator Merna Ghaly says she is happy that the march attracted public attention and made people curious about their group and its objectives.
"Many people like the idea and joined us, and I'm sure they will convey the message to their families and friends after that, which will help increase the circle of knowledge," she says.
Additional reporting by Does Vandousselaere.
This piece was originally published in Egypt Independent's weekly print edition.