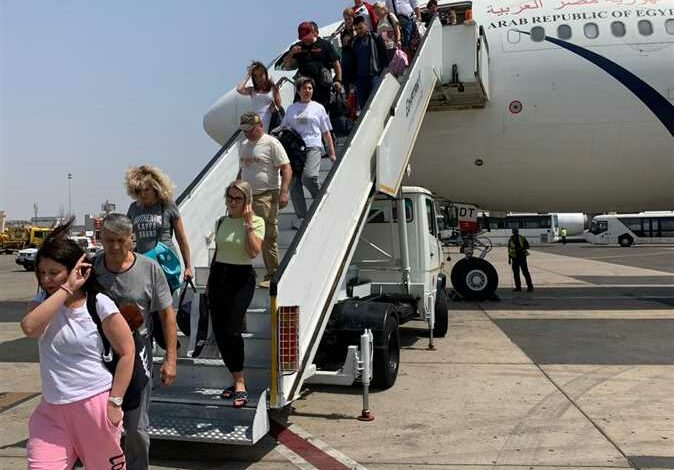 The Marsa Alam International Airport, south of the Red Sea governorate is set to receive 61 flights carrying about 9,000 tourists from various foreign nationalities from Saturday until Friday.
The flights come from the airports of 10 European countries, including Germany, Italy, Poland, Czech, the Netherlands, Belgium, Luxembourg, Hungary and Switzerland, according to the flight operating schedule announced at Marsa Alam International Airport.
A tourism expert in the Red Sea, Atef Othman, confirmed that hotels and tourist resorts are ready to receive thousands of tourists from various European nationalities.
Healthy recovery
Egypt's tourism industry has been recently getting back on its feet following the knock-on effect to the country's economic sector due to the COVID-19 pandemic.
Encouragement from news outlets
CNN Travel published a report titled "Best places to go for fall: A dozen cool spots around the world," where it listed Egypt among the top 12 tourist destinations to travel to around the world in the fall 2022.
Egypt ranked the second most popular foreign destination for Russian tourists in early August with 345,700 trips, and the UAE third with 345,400 trips.
In July, Travel Awaits, a website specializing in tourism and travel affairs, also published  a report where Egypt was ranked ninth among 17 most popular tourist destinations for travelers around the world in 2023, according to travel reservations by international tour operators.
The website described the Egyptian tourist destination as one of the best tourist destinations for having prominent tourist attractions combining culture, history, distinguished geographical location, entertainment and various marine activities.
In September, under the title "Demand for Egypt Travel Is Growing," the American website, Travel Market Report, which specializes in tourism, said that Egypt is one of the most popular and famous tourist destinations that is witnessing an increasing demand for tourism.
The report reviewed the opinions of a number of owners of tourism companies and cruise ships.
According to the statistics of one of the major tourism companies, Egypt came as the second most popular tourist destination for its customers this year compared to previous years.