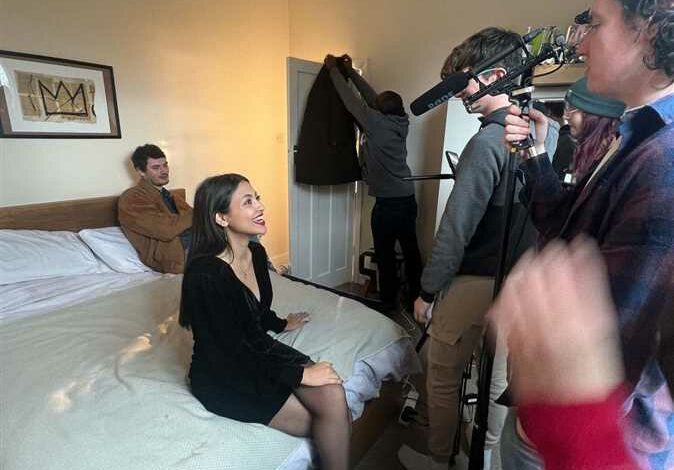 The young Egyptian actress May Elghety shares her first experiences in international cinema. She is to perform in a British movie, Due Dating, which is directed by Daniel Pacquette and co-starring Rowland Sterling, Jade Asha and Alex Crockford.
What character is she playing?
Throughout the movie Due Dating, Elghety plays the role of "Persia", an attractive woman and the ex-girlfriend of the movie's hero, "Cole" – Rowland Sterling -, who cheats on him with another person and continues to make him mad from time to time, and the film narrative changes to other events.
Elghety expressed her happiness with  participationbin this project and said: I am happy with my first international role, and I am traveling between England and Egypt, to complete the movie "Mission in Sahl Hasheesh" (Mohema fe Sahl Hasheesh).
The latest works of Elghety
Elghety is now participating in "Children of Abed" (Abnaa Abed). A large number of stars are participating in the series, most notably Ayten Amer, Afaf Mostafa, Intisar, Lotfi Labib, Ehab Fahmy, Nadine, and the work is directed by Akram Farid, written by Samah Hariri.
Who is May Elghety?
She is the daughter of writer Mohamed Elghety and media personality Mona Barouma, and her sister Mayar is an actress as well.
Her father nominated her when she was a 7-year-old, for one of the roles in the series he wrote, "Women's Storms" (Awasef al-Nesaa). She participated in many works on television and cinema.
Elghety was known for her role in the series "al Qaserat" (the teenagers), starring Salah al-Saadani.
She won the Best Actress Award from the "My Love Cherry" festival for her role in the short film "Nada".