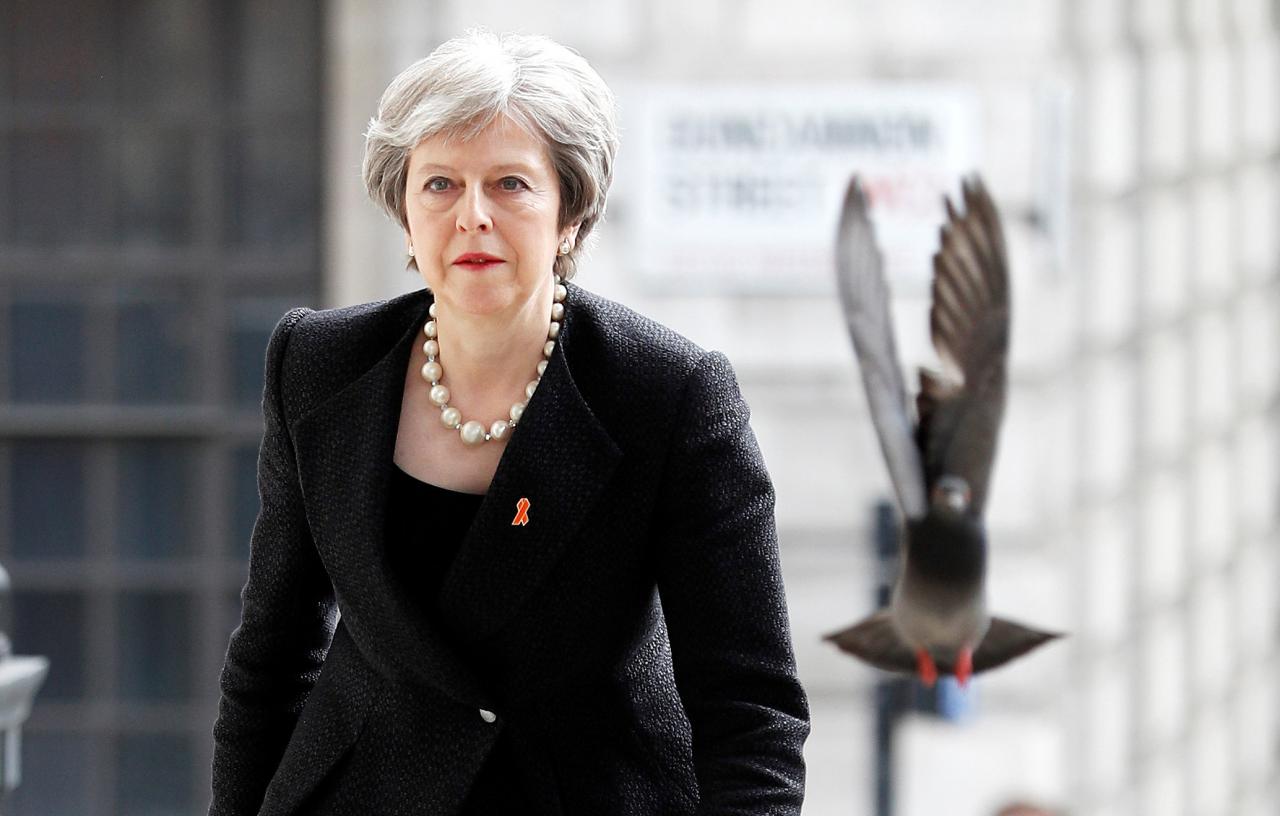 Prime Minister Theresa May has survived a frenzied fortnight of rebellion that threatened to unseat her, but must now sell her Brexit plan to voters and the European Union.
With a trip to Northern Ireland this week, May began a tour of Britain to convince voters to back her blueprint for close economic ties with the bloc after Brexit next March.
Her new Brexit minister Dominic Raab — appointed last week after his predecessor quit over the compromise proposal — also held his first talks in Brussels on Thursday where he vowed to "heat up" the withdrawal negotiations.
May still faces significant anger from her Conservative party over her plan to follow EU rules in trade on goods after Brexit, which has been called "Brexit in name only".
But, while the danger of a leadership challenge remains, she has ridden out the resignation of two cabinet ministers and seen off a threatened parliamentary defeat by pro-Europeans.
"For the first time she's got a cabinet united around her vision," said Anand Menon, director of the UK in a Changing Europe think-tank based at King's College London.
He said the resignations of Brexit minister David Davis and foreign minister Boris Johnson may actually help in persuading Brussels to take her plan seriously.
"It allows her credibly to turn around to the EU and say I'm taking these people on and I need some help," he told AFP.
"The EU doesn't like the (plan) but the muted reaction is evidence that they understand the need for sensitivity."
– 'Looked into the abyss' –
Britons voted to leave the EU in June 2016 but the government has been divided on what it wants from the future relationship.
With the clock ticking, May gathered her warring ministers on July 6 and persuaded them to back a new free trade area on goods.
It unleashed fury from those who want a clean break with the EU, and a string of junior aides followed Davis and Johnson out the door.
May faced open hostility from her own MPs, with one asking her in the House of Commons if she could explain "at what point it was decided that Brexit means remain?"
With an eye on dispersing MPs who may try to plot against her, May tried to bring forward parliament's summer holidays, only to abandon the idea due to a lack of support.
However, she survived a crucial vote that would have forced her to try to keep Britain in a customs union with the EU, something she has repeatedly rejected.
And at a meeting of her MPs on Wednesday, she won pledges of support, with one even announcing that he was withdrawing his letter of no confidence tabled the week before.
Simon Clarke told reporters that he still disliked May's plan but had been shocked by the in-fighting.
"We have looked into the abyss in the last few days," he said, adding: "A Conservative party civil war is not where we need to be."
– 'No deal' planning –
It is far from clear however that even if May sticks to her Brexit plan and secures enough support to get it through parliament, it would be acceptable to the EU.
Critics have called it unworkable and the EU has repeatedly warned it will not allow Britain to pick and choose which bits of its single market that it wants to follow.
Both the European Commission and Britain say they want an agreement, but both are stepping up preparations for the possibility the talks fail.
For some in Britain, the Conservative party in-fighting signals that parliament will never agree on a way forward, and the only ways out are crashing out of the EU with no deal or putting the decision to another vote.
May's former education minister, Justine Greening, this week became the most senior Conservative to argue for a second referendum.
Former Labour prime minister Tony Blair echoed this call, telling AFP: "Once this thing has been started by a referendum it can frankly only be finished by a fresh vote."