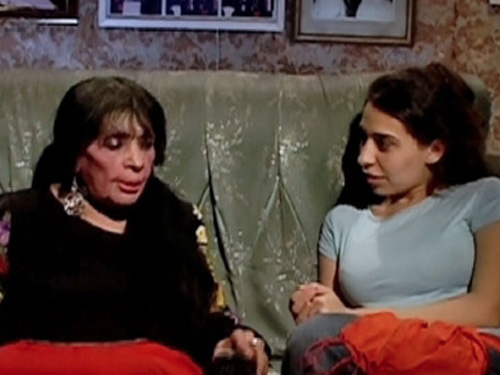 Heba Yossry seems to make her films for herself. They do not seek to impress through any slickness or bravura, but rather acquire their charm coincidentally, through the intimacy with which they're made. They are not formulaic but unfold in a kind of organic way, with the complications of real life left in.
They give the strong impression of not caring that much what people think, which in this case is more of a strength than a weakness.
Her first film, "Profession: Woman" (2005), was motivated by curiosity, while her two other films and a planned fourth are about herself and her remarkable family. Yossry's paternal grandmother is the famous Egyptian singer Scheherazade, now retired, and Scheherazade's late husband was Egypt's first cellist. Yossry's father used to be a musician but renounced music in favor of God.
"Profession: Woman," which is 12 minutes long, was made while she was in her first year at the National Cinema Institute with a budget of LE800.
Working in her father's shop at the bottom of their building, Yossry observed prostitutes interacting with men on the street. Having been brought up to stay away from men and see them as dangerous, she wondered how they could do it. Some would wait for a man in the shop, and as she got to know them she realized they were just normal people with troubles in their lives. She was curious about how they ended up doing what they do.
The result is a concise, sensitive film that consists of interviews with four prostitutes, cut with shots of the street at night, all of it filmed with a surreptitious air that matches her subject. The film is non-judgmental and the women seem simultaneously strong and vulnerable.
Yossry says the fact that each woman was at pains to make clear that she had strong ethics — for example, would never steal — made her appreciate how varied takes on ethics and God can be.
"I am purer than all of you," says one woman, Asmaa, defiantly to the film crew behind the camera. In the final scene, Yossry asks about her dreams. Asmaa says she wants to be a pediatrician, and breaks down as she imagines graduating and her mother taking her in her arms and saying she loves her.
Yossry's boyfriend, who initially seemed fine with the idea, left her when she started filming. Her professors loved the film but then the Ismailia International Film Festival for Documentary and Short Films failed to show it, despite having put it on their schedule. After that, it was apparently banned in Egypt, no doubt at least in part because it is critical of the police, who take money from the women to let them work.
"It was more of a personal curiosity than a success," says Yossry, who is as forthright and unassuming as her films.
"Another Passion," Yossry's 20-minute long graduation project, tells a surreal, semi-fictionalized version of her struggle to study film. Fleeting moments of childhood are reconstructed, while she plays her dreamy 18-year-old self. She is continually distracted from dramatic arguments with her pious family by melodramatic fantasies of acting and singing, which creates a half-sad and half-humorous Walter Mitty effect. When her aunt explains that if she became an actress and suddenly died, she would go to hell, the scene abruptly changes and Yossry's face floats over footage of the actor Ahmed Zaki's funeral, to the sound of tragic music. By the time we return to the conversation, she has a morbid smile on her face.
"My Scheherazade," also called "Settou Zad" and subtitled "My First Passion," was screened at the 5th Panorama of the European Film, and in some ways seems like a documentary sequel to "Another Passion." It is a personal film about Yossry's love for her grandmother, rather than a historical document of Scheherazade's life, although certain anecdotes — like one about how Om Kalthoum married her off — add some celebrity intrigue.
The 81-minute film is constructed from footage of long-ago concerts, old photos, home movies, and recent interviews that Yossry conducted with her grandmother and other members of the family. Perhaps it could have been tighter and less sentimental, but like her other films, it is strangely watchable.
The film takes place almost exclusively inside Scheherazade's glamorous Nile-side apartment, the décor of which echoes the fabulous dresses and jewelry we see when the film cuts to old concert footage. The apartment is filled with elegant furniture and pictures of the singer when she was younger, making for dramatic compositions and comparisons.
The film is largely carried by Scheherazade's voice: her powerful singing and her entertaining anecdotes. Her singing voice was insistent and full of desire, and visually she was a glittering, statuesque performer. Still a formidable and charismatic woman, her repartee is almost as compelling as her songs.
Yossry's let-it-all-hang-out approach means some scenes are pathetic, and some feel at first almost too intimate — like the "recorded letters" Scheherazade's husband would send her from Muscat, full of longing. Other scenes reveal difficult family dynamics, including the director's relationship with her father, Scheherazade's only child.
"I believe a woman should stay at home and be a housewife," he declares, also speaking of his loneliness as a child. Perhaps the most poignant scenes are those in which mother and son stand in the hallway and both try and talk at once to the camera.
"He's good for companionship, that's it," says Scheherazade of her son, to whom Yossry dedicates the film. The sad parts, where you doubt her ability as a mother, somehow barely dent her righteous image: for normal people, the film argues, distractions "make things lose focus."
To earn a living, Yossry has worked as an assistant director in advertising and sitcoms. "My Scheherazade" was funded by Misr International Films, but her next film is to be produced by Seen Films, a production company she recently cofounded. The film's subject will be the house of her other grandmother, who Yossry says is very different to Scheherazade.
Yossry says that after that, she won't make any more films about herself or her family. While her approach means her autobiographical works are no less risky than when she was dealing with the controversial subject matter of "Profession: Women," that first film, with its spare style, seems the most real and unorthodox. It will be interesting to see what she does when she turns her camera and insouciant attitude on the outside world again.
This piece was originally published in Egypt Independent's weekly print edition.