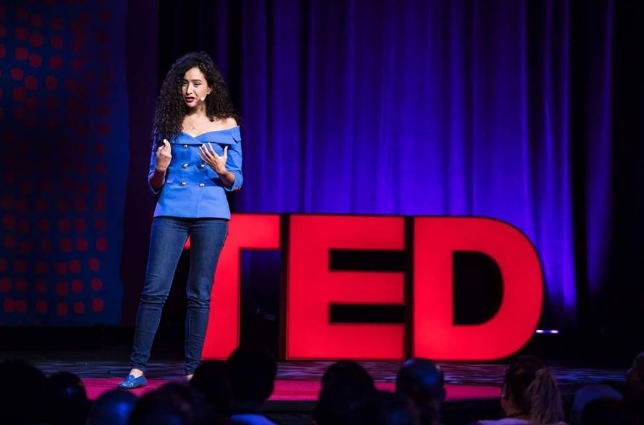 27-year-old graphic designer Ghada Waly drew the attention of the audience at the opening ceremony of the World Youth Forum in Sharm al-Sheikh where she delivered a speech recounting her achievements.
Waly won the Adobe Design Achievement Awards twice, and was listed among the top 30 graphic designers in Europe under the age of 30 in a contest by Forbes magazine.
In August 2017, she was selected to participate in TED Global and was the youngest Arabic speaker at the event.
"I am honored to represent the youth of Egypt, specifically Egyptian women," Waly said at the beginning of her speech at the World Youth Forum's ceremony.
She said that her dream was to make international achievements for Egypt, adding that youth who are familiar with art and music cannot turn into terrorists, extremists or racists.
In an interview on the CBC TV Channel with host Mona al-Shazly and another report by the National Council of Women on the young graphic designer, Waly said she was born in 1990 to an architect father and a doctor mother. She added that she loved colors and drawing from an early age to the extent that she even used to draw with food and tomato sauce.
Having worked as a freelance graphic designer since her first year at the university, she joined the Graphic Design Department of the German University in Cairo (GUC) in 2006. After graduation in 2011, Waly held a host pf exhibitions to display her work and also worked as a teaching assistant at the GUC and the American University in Cairo (AUC).
Five years after her graduation, she was nominated by the GUC to prepare aa MA degree in graphic designing in Italy.
Waly said she contributed to many advertisements for new products, and re-designed the covers of novels by late Egyptian Noble prize winner writer Naguib Mahfouz.
Ghada said she dreams of opening graphic design studios in all continents of the world.
Edited translation from Al-Masry Al-Youm