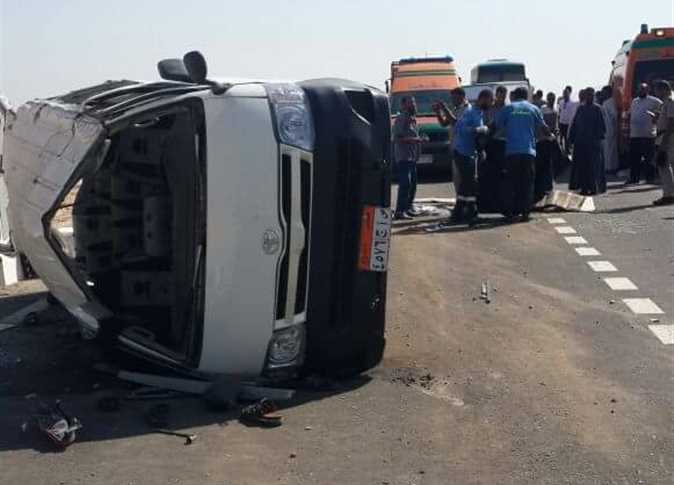 Three people were killed and another nine injured on Sunday after a microbus turned over in the eastern desert road near al-Shiekh Fadl village in Beni Mazar, Minya governorate.
Investigations revealed the cause of the accident as a result of the driver speeding.
Police officers and criminal investigators inspected the accident as three ambulances transferred the victims to the Minya's Public Matai Hospital.
The deaths were three Cairo residents: Karma Abdel Aziz, 1, Zinab Mohamed, 20, and Rania al-Sayed, 15.
The injured suffered from suspected concussion, brain bleeding, abrasions and bruises throughout their bodies. After receiving first-aid treatment, they were allowed to leave the hospital.
Police filed a report on the accident and referred it to public prosecution to complete investigations.
Egypt's Central Agency for Public Mobilization and Statistics (CAPMAS) reported that car accidents declined by 23.6 percent, recording 8,480 accidents in 2018 compared to 11,089 accidents in 2017.
CAPMAS credited the decreasing rates of car accidents to improved roads across the country.
CAPMAS added that accidents in 2018 left 3,087 people dead, 11,803 injured and 13,441 vehicles damaged.
The human element was the main cause of accidents, accounting for 76.8 percent of total accidents in 2018, followed by vehicles accounting for 15.7 percent and the environmental element accounting for 2.7 percent.
Edited translation from Al-Masry Al-Youm