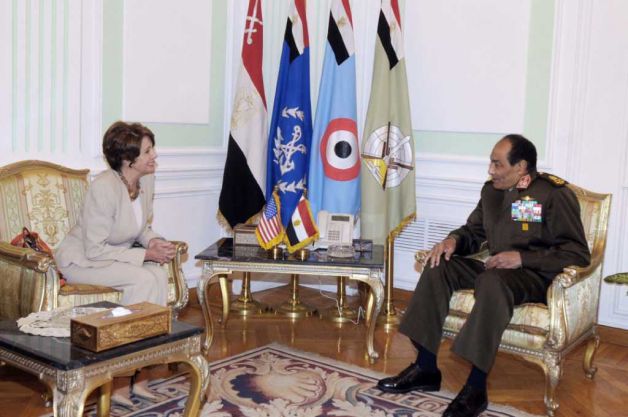 US assistance to Egypt is part of the 1979 peace treaty Egypt signed with Israel, a senior Egyptian military source has said.
It is not linked to Egypt' progress towards democracy, the source said, according to London-based Asharq al-Awsat's Saturday edition.
The Obama administration on Friday formally agreed to release $1.3 billion in military aid for Egypt despite Cairo's failure to meet pro-democracy goals, saying US national security requires continued military assistance.
US Secretary of State Hillary Clinton waived congressional conditions imposed late last year that tied US aid to progress in Egypt's transition to democracy following the ouster of longtime President Hosni Mubarak.
In a statement published Friday, Clinton justified her decision to waive the condition by saying that the aid serves to preserve "America's national security interests."
"Egypt has made significant progress toward democracy in the last 15 months, including: free and fair parliamentary elections and the transfer of legislative authority to the new People's Assembly, and a date announced for complete transition to civilian leadership."
Clinton's decision, which has been criticized by some US lawmakers, took note of Egypt's progress since last year's street uprising, including holding parliamentary elections and preparing for a presidential election in May.
Asharq al-Awsat's source said that that the US decision to continue giving aid to Egypt reflects the "depth of Egyptian-American" relations.
The US "trusts that the Egyptian leadership, represented in the Supreme Council of the Armed Forces (SCAF) is heading towards democracy after the conduct of the parliamentary election which the entire world said was characterized by integrity."
He added that the US is confident that the SCAF will hand over power to an elected president at the end of May.
Mohamed al-Keshki, military attaché at the Egyptian Embassy in Washington, said continuing US aid to Egypt demonstrates the strength of relations and of cooperation between the US and Egypt.
The fact that assistance was not tied to democratic transformation should not be conceived as a negative message, he said.
He added that the SCAF will hand over power at the specified date and emphasized that "it takes several years to achieve democracy. It is not established overnight."