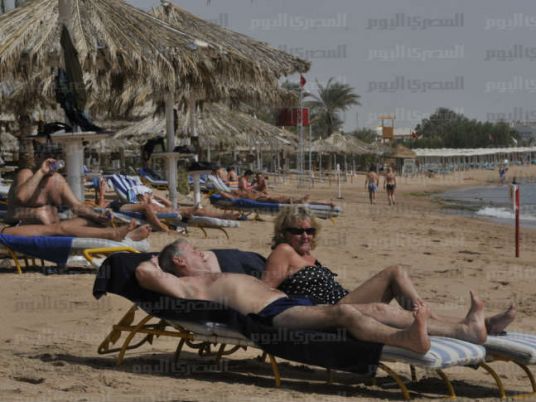 Egypt's tourism industry, battered by three years of political upheaval, violence and street protests, could fully recover by the end of next year if regional turmoil does not spread to the Arab world's biggest country, the tourism minister said.
While Egypt is by no means wholly stable, Hesham Zaazou said in an interview with Reuters late on Sunday that he hoped tourist numbers would rise by up to 10 percent this year and recover to pre-uprising levels of 14.7 million visitors in 2015.
"If the relative stability that exists now continues, I imagine there will be a (full) recovery," Zaazou said.
Sea resorts and ancient sites are the backbone of the Egyptian tourism industry – a pillar of the whole economy – and have mostly escaped attack by militants, but Zaazou said he would also promote desert safaris, trekking and spa tourism.
"A prerequisite is stability and this is happening," he said.
Once peaking at $12.5 billion (£7.7 billion) a year, tourism revenues were less than half that in 2013 as upheaval in the run up to the army's ouster of President Mohamed Morsy put off foreign visitors.
More than 14.7 million tourists visited Egypt in 2010, dropping to 9.8 million in 2011. Visitors picked up in 2012 to 11.5 million but shrank to 9.5 million last year.
Tourist revenue in the first half of 2014 was $3 billion, down 25 percent from a year earlier, the government said in August. Government figures had shown tourism contributed 11.3 percent of GDP and 14.4 percent of foreign currency revenues.
Deteriorating Regional Security
Although tourists have been slowly reappearing in hotels this year, especially from other Arab states, a deterioration of the security situation in the Middle East poses a further threat to the sector.
The rapid advance of Islamic State – a group seen as more extreme than al Qaeda – has worried governments across the region, including in Egypt, a strategic US ally which has a peace treaty with Israel and controls the Suez Canal waterway.
"The idea of trying to secure our country and ensure that this kind of threat does not infiltrate and come into Egypt is definitely of concern for the government and the president," Zaazou said.
"As soon as you have a disruption in this kind of relatively stable environment that we are enjoying at the moment for sure this will affect tourism negatively. I believe the government is extremely aware of that."
US Secretary of State John Kerry met with Egyptian President Abdel Fattah al-Sisi and other senior officials this weekend during a regional tour aimed at building an international coalition against Islamic State.
The al-Qaeda offshoot has been coaching Egypt's most active militant group, Sinai-based Ansar Bayt al-Maqdis, an Ansar commander recently told Reuters.
The Egyptian group has killed hundreds of soldiers and policemen since Morsy's ouster.
Egypt is also closely monitoring Islamic State-inspired militants who operate just over the border in the chaos of post-Gaddafi Libya and are seeking to topple the Cairo government.
"Definitely it does concern me. We are now looking like a green oasis in the middle of this desert, of this turmoil around us both in Libya, what's happening in Iraq and Syria," Zaazou said.
The bombing of a tourist bus in Sinai which killed two South Koreans and an Egyptian driver in February revived memories of an Islamist uprising in the 1990s that often targeted tourists and took years for Mubarak to crush.
But Egyptian tourism has survived big setbacks in the past.
On 17 Nov 1997 Islamic militants descended on Queen Hatshepsut's temple near the Nile town of Luxor. In a short time, they shot or hacked to death 58 tourists and four Egyptians.
The following January and February, visitor numbers were down almost 60 percent from the previous year. Yet the industry staged a remarkable comeback.