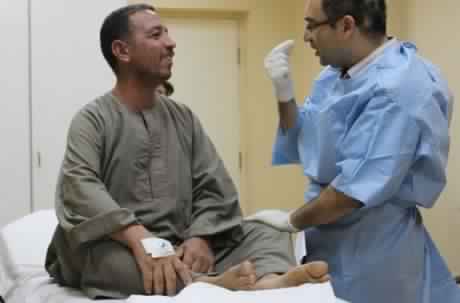 Minister of Health Ahmed Radi launched on Tuesday a national campaign to end Virus C by 2020 that begins in 17 governorates as part of President Abdel-Fattah al-Sisi's initiative to announce an Egypt free of the disease.
The campaign will be carried out with "Tahya Masr" (Long Live Egypt) Fund and Al-Azhar.
The official spokesperson for the Ministry of Health Khaled Megahed, announced that the first stage of the campaign will target 17 governorates in Egypt: Cairo, Fayoum, Beni Suef, El-Menyia, Sohag, Giza, Qena, Luxor, Aswan, The Red Sea, Gharbyia, Monoufyia, Sharkyia, Dakahlyia, Assiut, Port Said and Damietta. The next stages will take place in the rest of Egypt.
Megahed announced that the campaign will include health scans of members of the public through conducting PCR tests to check for antibodies for virus C. Those proven positive will then be further tested for virus C and will be given a cure on the same day.
Megahed added that the campaign targets people between the ages of 19-59, which is the same group that the World Bank announced to be the most vulnerable to the disease.
The World Bank had announced that there are around 50 million citizens who suffer from Virus C in Egypt. The campaign will target 15 million citizens annually over three years.
Megahed also said that Egypt will be free of Virus C by 2020, stressing on the importance of the campaign being carried out on a huge range of people to truly make it a national campaign.
During the last presidential opening of new projects in Beni Suef, the Minister of Health had announced to the president that the ministry has finished checking five million citizens for Virus C in one year.
Hepatitis Virus C is a major public health burden in Egypt as the country has the highest infection rates in the world.
There is an estimated 71 million people who have the disease worldwide, and 50 million of them are in Egypt. The epidemic hit Egypt in the 1950s as a result of a national program of massive vaccinations with non-strylized syringes.
Egypt has attempted in recent years to fight Virus C, most notably the "Tour n' Cure" campaign which was promoted by Lionel Messi, and invited people to come and spend a vacation and be cured by the virus in Egypt.
Moreover, in 2016 the US Food and Drug Administration announced a new Egyptian drug Zepatier had been approved to treat specific types of Virus C in adult patients.