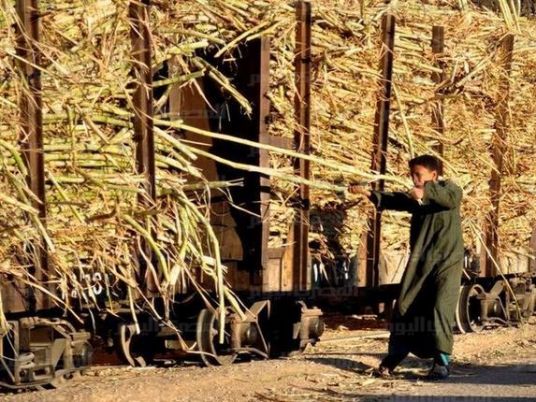 In the last few days, Cairo and several other governorates have been experiencing a sugar shortage. Stores of sugar in shops and markets have disappeared, sparking anger among shoppers. The Ministry of Supply has launched an investigation, suspecting that people are buying sugar in large quantities to monopolize it in the market.
Yehya Kasseb, head of the Food Division at the Giza Chamber of Commerce, has said the crisis is not because of the amount of sugar supplied by the government, but rather the result of citizens buying sugar in large quantities due to price increases.
Kasseb told Al-Masry Al-Youm that even the ministry's stores have been depleted due to the increased retail price of sugar, an increase that took the price from between LE5 and LE7 per kilogram last month to LE8 and LE10 this month.
ٍSources in the ministry have confirmed that the four companies responsible for manufacturing beet sugar in Egypt (Delta, Al-Fayoum, Al-Nubaria, Al-Daqahleya) have been told to sell whatever is left of their production at a fixed price of LE4,500 per ton, so that consumers buy it for LE5 per kilogram.
The ministry sources, who prefer to remain anonymous, have also revealed that the sugar committee in the ministry has ordered companies with any stores of sugar to hand them over to the Holding Company for Food Industries, one of the ministry's holding companies. The aim is to control the price of sugar in the market by directing large quantities to consumer complexes and the ministry's supermarkets, both of which will sell at a fixed price.
In Cairo, a ministry investigation force on Wednesday busted a wholesale warehouse attendant in the Bulaq area who was hoarding large quantities of several foodstuffs. Among his stores were five tons of sugar and large quantities of rice, all intended for sale on the black market. Further investigations are now underway to try and catch merchants who have a reputation for hoarding foodstuffs and selling later at inflated prices.
In Qalyubiya, sugar has disappeared from the supermarkets in several of the governorate's villages after an increase in its price to LE9 per kilo in several areas. Shopkeepers refused to sell what was left of their stocks, waiting for prices to rise before putting it on sale.
Fayda Abd al-Aziz, a teacher, confirmed that the price of sugar has risen to LE 9 from LE4. She blames the price rise on the ministry's failure to regulate the activities of these shops.
Ahmed Abd al-Gawad, a supply inspector in Toukh, Qalyubiya, said that the increase in sugar prices is due to the lack of a fixed price that the ministry should set and inforce in the shops. He explains that if there were legal repercussions they wouldn't increase prices so freely.
Security forces have been sent out to locate hoarders of sugar in Benha and Shubra al-Kheima, arresting 25 people who were selling it at inflated prices. Investigations also uncovered 15 cases of people selling expired goods, as well as a factory in Al-Kanater al-Khayereya that makes halawa tahiniya using subsidised sugar, which is prohibited.
In Sharkiya, residents also reported an increase in the price of sugar to LE9 per kilo, as well as reporting a severe shortage of sugar in most shops. Mahmoud Nasr, from Al-Husseineya, blames merchants' greed along with the lack of regulation from the ministry for the increase in prices. He called for more regulation so that merchants have less room to exploit the nation.
El-Sayed Saleh, from Faqous, said that most merchants have exploited the increase in the value of the US dollar and in turn increased their prices, especially the price of sugar, which only worsened the burdens that consumers have to bear. .
Hamdy El-Sherbiny, undersecretary of the Ministry of Supply in Sharqiya, explains that there are now large trade shows in Sharqiya selling food products in large quantities and at very low prices, in cooperation with consumer associations. The shows are regulated by the ministry, and he adds that the ministry has launched campaigns to combat price increases in the market.
In Monufiya, security services and the ministry's own forces arrested four people at the General Company for Wholesale Trade, who were allegedly hoarding up to 123 tons of sugar with plans to sell it on the black market.
In Aswan, residents complained of delays in the delivery of food products, especially sugar, rice and oil. Merchants are calling on the Egyptian Company for Supply Commodities to provide 50 percent of their monthly deliveries to the merchants before the start of every month.