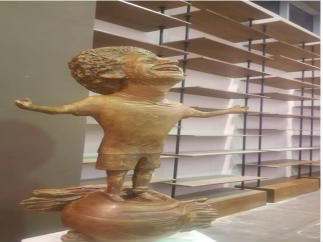 Egyptian sculptor Mai Abdallah, who made a statue for football player Mohamed Salah presented at the World Youth Forum (WYF) that was widely ridiculed, wrote on her Facebook account saying that Salah himself had phoned to encourage her.
"I'm very happy because our international player and hero Mohamed Salah has personally called me now and encouraged me. He told me: you're a skilled artist and I visited your page and viewed all your work and I like it so much," she wrote.
Abdallah said Salah asked her not to give attention to any negative comments making fun of her, even asking her to take her time and make another statue for himself to put at his home.
Salah's statue presented at the World Youth Forum raised controversy and mocking across social media.
In a Facebook post, Abdallah defended herself by explaining that the sculpture wasn't intended to go on display in the first place, but was just learning material for her instructional videos.
"I only intended this for people who were not professional but had a talent, and wanted to learn simple ways to start their journey, if you go back to my older posts, you will find all the details and how everyone benefited," she added.
"Then I took the decision to present the sculpture to the WYF. Up until the cast phase, which you see in the photo, where the sculpture is white, I liked the statue and was proud of it. Generally, I do not like anyone to interfere with my work at all since every detail matters."
"But when the WYF insisted that the statue be bronze in color, I had to have someone else do it, as molding takes time and effort. I was shocked by the result on the final day before I had to give the statue to the WYF, but what was I supposed to do?"
"Anyway, this was the end result. I am not sad or upset, nor do I feel any regret," she concluded, "I have done everything I could and god only knows how much effort I've exerted into this. To have the statue look bad after all I've done must be god's will."
Abdallah uncovered the Salah statue on Sunday during the second edition of the WYF, which runs from November 3-6 at Sharm al-Sheikh.
She told Al-Masry Al-Youm that she dedicated the statue to Salah as she believes the player stands as a symbol of excellence in life for Egypt's youth after FIFA selected him as a nominee for "Best FIFA Men's Player 2018" award.
Edited translation from Al-Masry Al-Youm