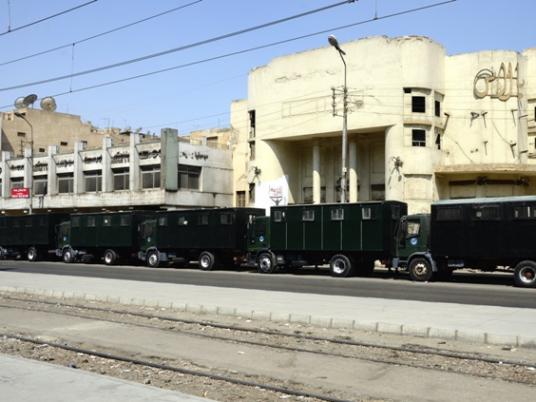 Topping the headlines in Monday's papers are three main news items: President Mohamed Morsy's naval adventures aboard a military frigate in commemoration of the 1967 sinking of the Israeli destroyer Eilat; throngs of protesters converging on Morsy's presidential palace with various grievances; and the freezing of assets owned by of Ahmed Shafiq — ex-President Hosni Mubarak's last prime minister — on charges of illicit gains.
Morsy captures front-page headlines in all daily newspapers. Donning a suit and a navy-style blue cap, Morsy is photographed with Abdel Fattah al-Sisi, the defense and military production minister, and other military generals aboard the frigate Toshka off the coast of Alexandria in a massive drill was dubbed "Naval Victory 45."
Morsy attended the naval drills, which featured live ammunition displays, in commemoration of Egypt's sinking of the Eilat on 21 October 1967 — just months after suffering a historic defeat at the hands of the Zionist state in the June 1967 war.
"Four hours in the middle of the sea to commemorate the navy," a main headline in the independent Al-Sabah newspaper reads. "For the fourth time … Morsy attends military drills involving live ammunition," reads another headline in the independent Al-Watan newspaper.
The state-owned Al-Ahram mentions that "Naval Victory 45" involved dozens of naval vessels, Chinook helicopters and F-16 fighter jets. No mention is made of how many pounds were spent on this large military exercise.
Independent paper Youm7 also runs a headline that references the "War of maneuvers between Egypt and Israel." The article mentions that while Egypt is conducting its naval maneuvers, Israel and the US are conducting the largest joint military drills since 2009, in preparation for a potential showdown with Iran.
The massive drill, expected to carry on for a month, has been called "Austere Challenge 12." The independent Al-Tahrir newspaper refers to this joint drill as being "Israel's largest aerial military exercises with America."
While Morsy was out at sea, thousands of protesters — including football players, administrators, fishermen and participants in housing projects — besieged the presidential palace Sunday with a host of different demands.
"Fishermen from Manzala Lake and participants in economy housing project protest block off traffic outside Ettehadiya" Presidential Palace, reads a headline in Al-Watan. The fishermen are reportedly protesting against violations perpetrated against them by the river police units, while the housing project participants have been left without housing.
Also in Al-Watan, "Athletes outside presidential palace: We will topple the [Muslim] Brotherhood in upcoming elections due to their position against the holding of the national football championship."
In the independent Al-Shorouk: "Football stars … from stadiums to street protests." This piece explains that a large number of footballers, athletic administrators and technicians embarked on a protest march to the presidential palace yesterday demanding a resumption of the national football championships, which have been indefinitely suspended in light of political developments.
Youm 7 reports that "Athletes chant against [Essam] al-Arian," referencing the leading Brotherhood figure's demands that there be "no football matches until the completion of Egypt's political matches." These athletic protesters are reported to have chanted, "Don't mix up politics with sports, sports are our livelihoods."
"Circle of rage tightens around Morsy and his men," reads a headline in the liberal opposition Al-Wafd newspaper. The article highlights three protests: footballers outside the presidential palace, journalists protesting outside the upper house of Parliament and the ongoing doctors' strike.
Regarding the latter two, dozens of journalists protested outside the Shura Council demanding the reinstatement of Gamal Abdel Rahim, state-run Al-Gomhurriya's former editor-in-chief who was removed from his post following the publication of an (inaccurate) article about Field Marshal Hussein Tantawi and former Armed Forces Chief of Staff Sami Anan of the Supreme Council of the Armed Forces. Al-Gomhurriya makes no mention of this protest.
Meanwhile, Egypt's doctors carry on with their nationwide strike. Al-Tahrir mentions that "7,000 doctors have submitted their resignations" in protests against poor healthcare, poor wages and poor working conditions. Healthcare spending amounts to less than 4 percent of the national budget; doctors are demanding a 15 percent budget allocation. The strike is in its 20th day.
Al-Gomhurriya, citing the Health Ministry, claims that 70 percent of hospitals are fully operational and are not involved in the doctors' strike, while about 27 percent, or 141 hospitals, are partially affected by the strike. Only about 2.5 percent, or 13, hospitals are on full strike.
Al-Gomhurriya also runs an article about residents of Al-Dabaa' in northwestern Egypt who are protesting in their hometown against the construction of a planned nuclear energy reactor on their lands. Morsy and other governmental officials have been trumpeting this project as a national objective to provide the country with additional electricity.
Criticism of Morsy and his ruling regime come not only from within Egypt, but also from abroad. The Islamist Sudanese opposition figure, Hassan al-Turabi, interviewed by Al-Shorouk, argues that Morsy is shielding Sudanese President Omar al-Bashir from international isolation. Turabi argues that the Morsy regime is neglecting to address the massive human rights violations being perpetrated along its southern border.
Finally, Shafiq, the former civil aviation minister under Mubarak, is being investigated by the Illicit Gains Authority, along with his children. Their assets have been frozen while Shafiq is on a wanted persons list at Egypt's ports.
Shafiq and his three daughters are accused of financial irregularities related to their "11 villas and four chalets along the Bitter Lakes," according to Youm7. The paper also mentions that their villa in New Cairo, two apartments in Hurghada and various stocks and bonds have been frozen in light of these investigations.
Al-Gomhurriya mentions that Shafiq is being investigated on charges of financial irregularities for his alleged mismanagement of civil aviation programs. The papers also mention that Shafiq's name has been officially added to those prevented from traveling abroad.
According to Al-Tahrir newspaper, Shafiq — speaking from the United Arab Emirates — is promising an "aggressive response" against the allegations.
Egypt's papers:
Al-Ahram: Daily, state-run, largest distribution in Egypt
Al-Akhbar: Daily, state-run, second to Al-Ahram in institutional size
Al-Gomhurriya: Daily, state-run
Rose al-Youssef: Daily, state-run
Al-Dostour: Daily, privately owned
Al-Shorouk: Daily, privately owned
Al-Watan: Daily, privately owned
Al-Wafd: Daily, published by the liberal Wafd Party
Youm7: Daily, privately owned
Al-Tahrir: Daily, privately owned
Freedom and Justice: Daily, published by the Muslim Brotherhood's Freedom and Justice Party
Sawt al-Umma: Weekly, privately owned
Al-Arabi: Weekly, published by the Nasserist Party
Al-Nour: Official paper of the Salafi Nour Party