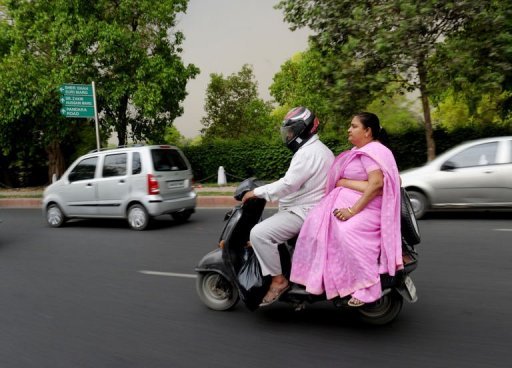 Persistent heavy rains have caused widespread disruption in India's major cities and severe floods in the rugged northeast have killed at least 12 people, the federal government said on Friday.
About 50,000 people from southern and eastern India had to be evacuated as storms pushed water levels to dangerous levels, damaging crops and causing more than 3,000 houses to collapse.
Flooding, an annual problem during the monsoon season, has been worsened by crumbling civic infrastructure, clogged drains and uncontrolled urban expansion in a country with a fast-growing population of 1.3 billion.
Thousands vented their anger on social media after being stranded for up to 12 hours as traffic gridlock paralyzed roads in the business hub of Gurgaon near New Delhi, the capital. Trains were also delayed.
"It took me four hours to drive 6 km (4 miles)," said Randeep Dev, a consultant at a private bank in New Delhi. "Our cities are a living hell in the monsoon."
Tracts of the southern technology hub of Bengaluru, and the financial capital of Mumbai on the west coast, were inundated by flood waters and sewage swirled in the streets.
Fire officials in Bengaluru, formerly known as Bangalore, used boats to rescue people stranded near Electronics City, home to technology firms and multinationals such as Infosys, the business process outsourcing giant.
Forecasters warned of a new round of heavy rains and flooding, as the government opened shelters and stepped up emergency rescue operations.
In the northeastern state of Assam, troops pressed boats and helicopters into the effort to pull hundreds of people to safety from floodwaters that had trapped them in their homes, senior military official Ajit Borah said.
In the state's Kaziranga National Park, a sanctuary for the Indian one-horned rhinoceros, water levels were receding, four days after some of the young animals had to be rescued. Others floundered through the water or strayed across roads, in video images captured by people living nearby.
Prime Minister Narendra Modi has announced grand designs to build 100 futuristic 'smart' cities, but this week's floods highlighted the need to improve living conditions in cities and rein in unplanned urban sprawl.
In neighboring Nepal, officials said four days of incessant rains had left 72 people dead in landslides and flash floods, and 12 missing.
Authorities were distributing dry food items, such as biscuits and noodles, to those whose homes were swept away in landslides or submerged by floods, Home Ministry spokesman Yadav Koirala said.