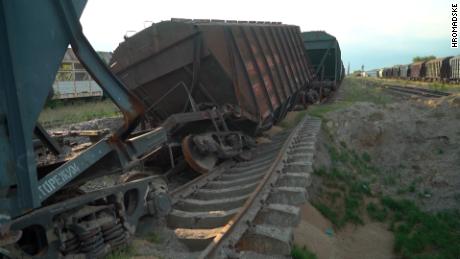 A Russian checkpoint in the southeastern Zaporizhzhia region has become the only relatively safe way for Ukrainians to try to leave southern occupied areas for Ukrainian-held territory.
But recent videos from around the checkpoint show hundreds of vehicles lined up, unable to cross.
Ivan Fedorov, the mayor of Melitopol, which lies in Russian-occupied territory, said on Ukrainian television on Tuesday that "evacuation from the occupied territories is the biggest problem. Evacuation is almost impossible today."
He said people were attempting to leave the occupied territories of Kherson, Zaporizhzhia, Donetsk and Luhansk through the checkpoint at Vasylivka, with some having been on the road for seven days, sleeping in their cars.
"Today, more than 5,000 people, over 1,200 cars have gathered there," he added.
Fedorov, who is not in Melitopol, reported the deaths of five people who were waiting to leave in recent days. He didn't explain the circumstances of the deaths.
"People can't even go and buy food for themselves. The only condition under which the Russians allow people to go to buy food in the city is to leave all the documents (passport, driver's license etc) with them and then collect them after returning."
The videos show people sleeping in their cars and tents and crowded into a gas station in high summer temperatures. Some people are sleeping in the open.
One video shows a large grass fire burning adjacent to the highway near the checkpoint. Large amounts of garbage have also built up around the checkpoint.
Fedorov said the Russians are using civilians as human shields in Melitopol, and have spent the last three days making large transfers of weaponry through the temporarily occupied territories.
"Yesterday, three convoys of equipment passed through the city of Melitopol in the direction of Kherson. These are a hundred units of heavy weapons, more than 20 tanks, landing vehicles and so on," he said.
Fedorov added that the armor was traveling west to Kherson where a Ukrainian counter-attack against Russian defenses is developing.