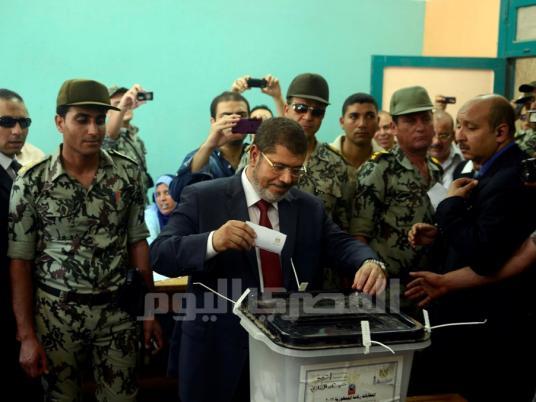 A Freedom and Justice Party representative said party workers observed campaign violations throughout the morning of the first day of the runoff election between Muslim Brotherhood candidate Mohamed Morsy and former Prime Minister Ahmed Shafiq.
Yasser Ali, spokesman for Morsy's campaign, said among the violations was the presence of more than one representative of Shafiq in polling stations.
Ali also denied accusations that the campaign had printed read-to-cast ballots. He said that ballots printed with the Morsy box already filled out were a print error that a Morsy campaign representative discovered and reported.
During a press conference held at the campaign headquarters Saturday afternoon, he also called on people to back Morsy as the revolution's candidate.
Ali also denounced the arrest of Morsy campaign member Mamdouh Ali Saber by military police. He said Saber did not commit campaigning violations.
Ali also urged the Egyptian people " to stage million-strong rallies" at voting stations to guarantee a fair election.
"We are confident in the Egyptian people and their eagerness to protect and continue their revolution, and we are sure that the Egyptian judiciary will be the protective shield of the election," he said.
Ali criticized the Presidential Elections Commission for not giving a copy of voters' lists to candidates, but he said the the Muslim Brotherhood remains confident in the Egyptian judiciary as the protective shield of justice.
He also denounced the use of invisible ink pens, which he said were found on Shafiq representatives in Alexandria.
Edited translation from Al-Masry Al-Youm