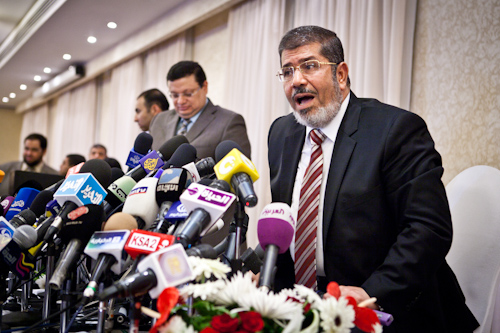 Muslim Brotherhood presidential candidate Mohamed Morsy denounced the ruling against toppled President Hosni Mubarak and his assistants in a press conference at his campaign headquarters Saturday evening.
Mubarak was sentenced to life in prison by a Cairo court Saturday morning on charges of killing protesters during the January 2011 uprising, while six top security officers were acquitted.
Mubarak was acquitted of the charges of squandering public funds, alongside his two sons and fugitive businessman Hussein Salem.
In the presser, Morsy saluted the mothers of the revolution's martyrs.
"I am part of this people who lived for decades under oppression," he said. "The blood from the martyrs' wounds is still running. I was, and still am, and will remain a revolutionary until the revolution's aims are realized."
Morsy and Ahmed Shafiq, the last prime minister to serve under Mubarak, are campaigning for the highest executive post in the country. A run-off election will be held on 16 and 17 June between the two.
While Shafiq's campaign motto is that he will return pre-revolutionary stability, Morsy is playing the revolution's card.
"Today we are all in the squares. After this presser I will go to Tahrir directly to keep the revolution going until it realizes its aims," he said.
Morsy vowed that justice will be served when he becomes president. He promised to form a team from criminal justice and prosecution to bring better evidence against the government officials responsible for killing protesters.
Judge Ahmad Refaat, who pronounced today's verdict, blamed the prosecution for not providing enough evidence that could incriminate the security officers.
"The continuation of the revolution is the true guarantee for clean elections and a transfer of power," he said. "The first step to restoring rights is elections under the revolution. The revolution must continue until we realize our aims."
Some observers have said that Morsy can make good use of the verdict to mobilize people to vote for him, particularly in protest to the former regime, with which Shafiq is associated.
"Many might turn to the Brotherhood's Mohamed Morsy to reprimand the regime. [It depends on if the] electoral machines are utilized properly," said Nabil Abdel Fattah, a political analyst with Al-Ahram Center for Political and Strategic Studies.