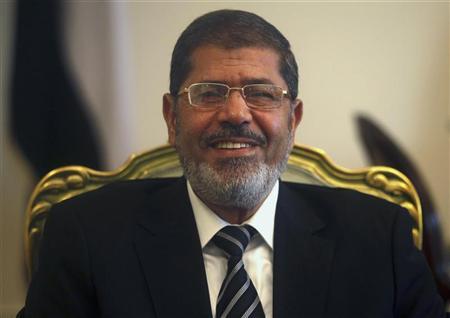 Elections for the House of Representatives should take place within three to four months, President Mohamed Morsy announced at a meeting with book publishers on Wednesday.
Morsy met with publishers from Egypt and the Arab world after the opening of the 44th Cairo International Book Fair, and told those present that new legislation is needed to guarantee greater freedoms for the sector.
"It should be a priority of the coming House of Representatives to pass laws that allow for freedom of publication and creativity," he said.
The president also touched on the Arab Spring revolutions which reflected a general desire for change. Libya, which experienced one of the revolutions, is this year's guest of honor at the book fair.
"It is a good choice because Libya has been through unprecedented oppression," Morsy said.
Publishers play a key role in spreading knowledge, he added.
"You have big responsibility in this stage to document, collect and analyze information about the revolution," Morsy said. "We want to document revolutions of the people."
The State Information Service (SIS) released a statement on Thursday quoting Morsy as saying during the meeting that the nation had made significant gains in political and democratic stability.
Established in 1954, the SIS is the country's main information and public relations agency. Supervision of the SIS was transferred from the Ministry of Information to the president after a decree was issued in 2012.