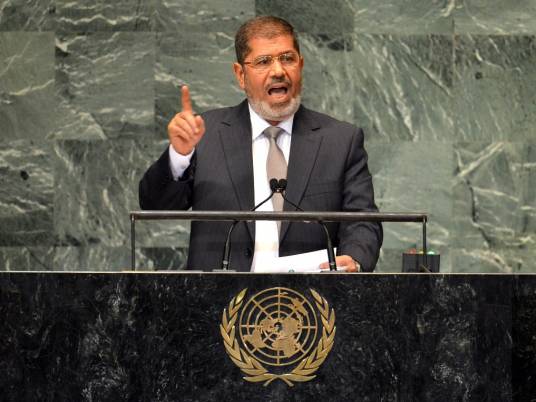 President Mohamed Morsy has invited representatives from 11 political parties for a dialogue, as well as several leading political figures, amid continued nationwide violence.
The political leaders include Dostour Party chief Mohamed ElBaradei, Popular Current movement leader Hamdeen Sabbahi, Ghad al-Thawra leader Ayman Nour and Islamist thinker Mohamed Selim al-Awa.
The meeting is scheduled to be held at 6 pm at the presidential palace, a statement by the president's office said.
The statement said the meeting would discuss the political situation, mechanisms of dialogue and topics to be debated during the dialogue.
Parties invited to the meeting include the Muslim Brotherhood's Freedom and Justice Party, Jama'a al-Islamiya's Construction and Development Party, the Salafi Nour Party and the moderate Islamist Wasat Party, as well as the secular Dostour, Free Egyptians and Socialist Democratic parties.
Violence broke out Thursday ahead of the 25 January revolution two-year anniversary. In Port Said, meanwhile, protesters have clashed with security forces over a court verdict that recommended the death penalty for 21 defendants in a football violence case. At least 47 people have died in the violence nationwide.
The president also declared a 30-day state of emergency in Port Said, Suez and Ismailia.