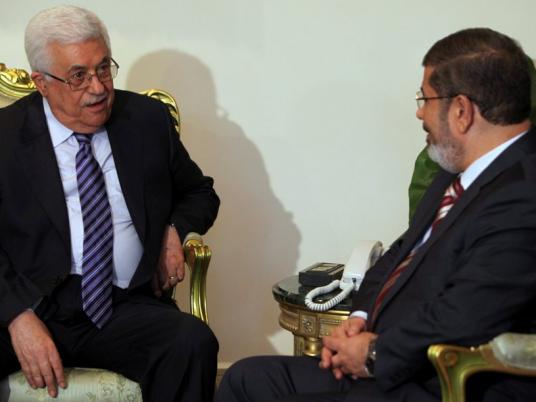 President Mohamed Morsy received Hamas political bureau head Khaled Meshaal at the presidential palace in Heliopolis Thursday.
Morsy and Meshaal discussed Egypt's efforts to support the Palestinian cause, the Palestinian reconciliation process and the establishment of an independent Palestinian state, as well as ways of supporting the people of the Gaza Strip.
Meshaal said Thursday that both Hamas and the Egyptian authorities are cooperating and coordinating with each other to help stabilize the security in Sinai. He added that the battle for Palestinians' freedom of movement is solely with Israel.
In a press statement after meeting with Morsy, Meshaal assured Egypt that Hamas did not lay claim to any part of Egyptian land, particularly Sinai.
He added that the discussion about amending the Egyptian-Israeli peace treaty is an internal Egyptian affair, and that Hamas will not interfere.
Hamas political bureau deputy head Moussa Abu Marzouq also attended the meeting, alongside a group of bureau members that included Mahmoud al-Zahar.
Palestinian President Mahmoud Abbas was also in Cairo on a separate trip and met with Morsy Wednesday amid reports that the Palestinian parties would soon conduct their own meeting. In a statement to reporters following the talks, Abbas welcomed the prospect of meeting with Meshaal to restart the stalled reconciliation process.
"Nothing prevents [me from] meeting Mashaal, and Fatah movement leader Azzam al-Ahmad held a meeting with Meshaal recently in Morocco," Abbas said, expressing hope that relations would soon return to normal.
Edited translation from MENA