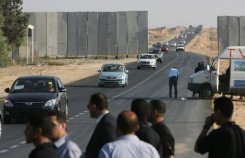 President Mohamed Morsy reiterated through his spokesperson Egypt's respect for international obligations and the treaties it has signed.
Morsy's statement came in response to calls for the amendment of the Camp David Accords with Israel, presidential spokesperson Yasser Ali said Tuesday evening.
An attack on an Egyptian military checkpoint in Rafah, North Sinai on Sunday night left 16 soldiers dead and seven others wounded. Some of the assailants, whose identities are still unknown, drove an armored vehicle over the border into Israel, where they were killed by the Israeli military.
Former Arab League chief Amr Moussa was among many public figures who asked Morsy to amend the peace treaty between Egypt and Israel so that Egyptian troops could operate in greater numbers in the Sinai Peninsula.
The Muslim Brotherhood held Israeli intelligence agency Mossad responsible for Sunday's attack, saying on its website that Mossad has wanted to abort the Egyptian revolution from the beginning.
Edited translation from Al-Masry Al-Youm