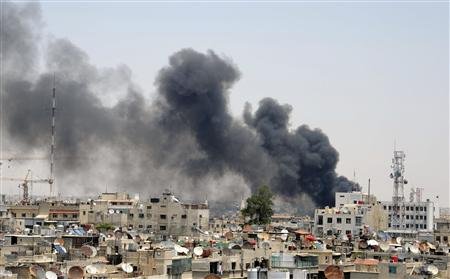 Fifteen Syrian students were killed when rebel mortar shells hit a Damascus University canteen on Thursday, state-run news agency SANA said, as attacks intensified in the center of the capital.
The Syrian Observatory for Human Rights, an opposition monitoring group, said a mortar killed 13 people at the university, without saying who fired the bombs.
Other activists confirmed the attack but no opposition group has denied or claimed responsibility.
Insurgents trying to end four decades of rule by the family of President Bashar al-Assad have formed a semi-circle around the capital and intensified attacks from positions on the outskirts this week.
A bastion for Assad's forces, the capital city is a crucial prize in a two-year-old uprising that has developed into a war in which more than 70,000 people have been killed.
Another 1.2 million Syrians have also fled to neighboring countries and North Africa, where they have registered as refugees or are awaiting processing, according to the UN High Commissioner for Refugees (UNHCR).
Highlighting the strain the conflict is placing on neighboring states, Turkey, host to about 260,000 of the refugees, denied on Thursday it had rounded up and deported hundreds of Syrians following unrest at a refugee camp.
SANA said mortar rounds landed in a canteen at the College of Architecture in Baramkeh, a central district near several government buildings, including the Defense Ministry, the headquarters for state media and Assad's official residence.
Pro-government Al-Ikhbariya TV showed images of doctors trying to resuscitate at least two young men and blood on the floor of what appeared to be an outdoor canteen. A young woman was shown walking in a hospital, her face bleeding heavily.
SANA quoted the president of Damascus University as saying the death toll, initially put at 12, had risen to 15 in what state and pro-government media called a terrorist attack.
Last weekend rebel groups sent out warnings on the Internet that they planned to intensify strikes on government and military sites in the city and warned residents they should leave to avoid what they called "Operation Shaking the Fort."
The United Nations said on Monday it would withdraw about half of its international staff from Damascus after a mortar bomb landed near their hotel.
The Syrian military has responded to rebel attacks with artillery shelling and air strikes on suburbs where rebels are entrenched among thousands of civilians trapped in crossfire.
On Thursday, opposition activists said rebels had taken the main bus station in northeastern Damascus. They provided footage of fighters walking around a deserted area and stamping on a framed picture of Assad.
Government reporting restrictions make it difficult to verify such accounts independently.
Turkish denial
The foreign ministry in Turkey denied on Thursday any Syrians had been expelled following unrest at the Suleymansah refugees camp, near the Turkish town of Akcakale
A group of 130 people, identified with the help of camera footage as being "involved in the provocations," decided to cross back into Syria voluntarily, either because they did not want to face judicial proceedings or because of repercussions from other refugees, the ministry said in a statement.
Witnesses said hundreds of Syrians were bused to the border after Wednesday's clashes in which refugees threw rocks at military police, who fired tear gas and water cannons.
"There has been a big deportation operation here, they got rid of lots of people. They kicked out two of my boys and three of my brother's sons. They came for my boys last night and told them to get their bags," one refugee at the camp told Reuters by telephone, giving her name as Saher.
Camp residents said young men started the protest against living conditions after faulty electrics set a tent on fire, injuring three brothers aged seven, 18 and 19, one of whom later died in hospital, according to Turkish media reports.
UNHCR said it was concerned about the reports and had taken them up with Turkey. Such action would violate UN conventions.
In a sign of divisions hampering international efforts to stem the conflict, Russia on Thursday accused the Arab League of abandoning support for a peaceful solution by giving a summit seat to the Syrian opposition.
Opposition leader Moaz Alkhatib took Syria's vacant seat on Tuesday at the Arab summit, which also lent its support to giving military aid to rebels fighting Assad.
Russian Foreign Minister Sergei Lavrov also cast doubt over the mandate of UN-Arab League mediator Lakhdar Brahimi.
"I just don't see how Mr. Brahimi can continue to be considered the representative not just of the United Nations but of the Arab League," Lavrov said in Moscow.
Russia has in the past vocally supported Brahimi, who has met in recent months with Russian and US officials in talks which failed to bridge disagreements over Syria.
Russia, which has long supplied arms to Assad's government but says it is not delivering weapons that can be used in the civil war, vehemently opposes arming the rebels.
Moscow says it has pressed Assad's government to end violence and accuses Western and Arab states of failing to put enough pressure on his opponents to do so, and in many cases encouraging them to keep fighting.
Russia and China have blocked three resolutions in the UN Security Council, and Moscow says Assad's exit from power must not be a precondition for peace talks.